Industry News
July 2017
Munich Re develops Tornado VR experience
Munich Reinsurance America Inc. (Munich Re, US) has developed an immersive Tornado Virtual Reality Experience to help people and businesses understand the devastation wrought by tornados and the need to embrace resiliency to help reduce future property losses and save lives.
Preliminary reports from the National Oceanic and Atmospheric Administration (NOAA) have shown that there were an estimated 945 tornadoes in the four months from January to April 2017. With an early and active start to the 2017 tornado season, 34 deaths have already been reported during this period, compared with 18 deaths during all of 2016.
Since the 1970s, reinsurance company Munich Re, US has been monitoring loss trends for convective storms worldwide, which includes tornadoes. The damage these storms inflict on US property has been rising steadily over the past 40 years, averaging less than US$2bn per year in the early 1980s but reaching more than US$22bn in 2016.
Mark Bove, senior research meteorologist at Munich Re, US, said, "An increase of atmospheric heat and moisture due to our warming climate will likely increase the number of days per year that are favorable for thunderstorms and their associated hazards, including tornadoes.
"The socioeconomic impact of tornadoes will continue to escalate due to people moving to regions at greater risk to severe thunderstorms, increases in the value of personal property, and suburban sprawl creating more 'targets' for severe thunderstorms.
"Our Tornado Virtual Reality Experience can help people that have never experienced a tornado to better understand the urgency and practicality of building resiliency into our homes and businesses to help protect property and people.
"Many building codes in the USA do not require a home to withstand more than a 90mph gust of wind for three seconds – the equivalent of a weak EF1 tornado with wind speeds between 86mph and 110mph.
"The USA experiences more tornadoes than anywhere else in the world, and a lack of resilient construction and weak or non-existent building codes in some states leaves many communities at risk of loss of property and lives when a tornado occurs."
Spending a dollar on disaster-risk mitigation and preparedness saves an average of US$4 in future losses, according to the National Institute of Building Services. The Insurance Institute for Business & Home Safety (IBHS) notes findings from a recent study that [show] homes built to its stronger, more resilient Fortified Home standards had a 7% higher appraisal value than similar homes built to conventional standards.
"More stringent building codes and enhanced high wind construction materials can help reduce the costs associated with tornadoes and other types of storms," added Bove. "Often, an incremental cost in resilient construction techniques in a new home can allow a building to withstand 130mph winds – much more than the current requirements of many building codes, where they exist.
"A resilient home can help mitigate the physical damage to property and save lives and, when combined with adequate insurance, reduce the time it takes to return to normalcy after a tornado hits."
To view the Munich Re US Tornado Virtual Reality Experience, click here.
---
3D nowcasting system provides torrential rain warnings 10 minutes in advance
An international team of scientists has developed a new 3D nowcasting system that is said to predict the likelihood of precipitation in a given location 10 minutes in advance. The solution uses a combination of phased-array radar and computer algorithms that make predictions based on the data gathered from the radars.
The group includes scientists from the Riken Advanced Institute for Computational Science (AICS), National Institute of Information and Communications Technology (NICT), and Tokyo Metropolitan and Osaka universities in Japan. The team will use the system to determine if the experimental forecasts, based on data that is updated every 30 seconds, could be used to prevent damage from torrential rains.
Nowcasting traditionally refers to short-term weather forecasts made in real time using parabolic radar antennas, which take five to 10 minutes to scan approximately 15 layers of the entire sky.
However, a phased-array radar was recently installed on the Suita Campus of Osaka University, which can scan the entire sky in 10 to 30 seconds, looking at approximately 100 angles with a range of 60km (37 miles).
In an effort to improve the forecasting capability of the radar, the group developed an algorithm that takes the observational data from the radar, updated every 30 seconds, and makes rapid forecasts based on the 3D rain data. The forecasts currently cover the Kansai region of Japan and are available online.
Takemasa Miyoshi, who leads the project at Riken AICS, said, "Torrential rains can have tragic consequences, as they lead to flash floods or dangerous landslides in a matter of minutes. We hope that being able to forecast them, even 10 minutes in advance, will help us to minimize the damage they can cause.
"There are still many issues to tackle, such as how to make this information available to those who need it, in a timely and effective way, and we plan to continue our work to make this system a reality."
The group has also developed a forecasting model based on phased-array radar data using the powerful K computer, and though it cannot be currently implemented due to the need for massive computational power, the group plans to continue that work with the hope that it may eventually be implemented on future computers, allowing much more accurate forecasts of torrential rain.
---
Meteo France pledges to help Pakistan improve early warning and weather services
Pakistan and France have signed a memorandum of understanding (MoU) to deepen scientific cooperation in the field of meteorology. The MoU was signed by Moin ul Haque, ambassador of Pakistan to France, and Jean-Marc Lacave, CEO of Meteo France.
The MoU will see both countries work together to improve Pakistan's weather forecasting system, including developing capacities in the field of early warning and weather services with a special focus on the implementation of early heat wave warnings.
Meteo France and the Pakistan Meteorological Department (PMD) will also look at wind and solar power potential, including the establishment of a National Climate Center.
Ambassador Haque is reported to have said that the project will benefit both countries through the sharing of information and exchange of scientific and technical personnel, as well as through knowledge transfer, joint studies and the research of subjects of mutual interest.
---
Met Office embarks on new Southeast Asia partnership
The UK's Met Office is working with organizations in Malaysia and the Philippines to develop advice related to high-impact weather events.
As a delivery partner for the Newton Fund, the Met Office will develop a science-based weather and climate partnership. It aims to better understand the region's severe weather and to protect lives and livelihoods in a part of the world regularly affected by floods, major cyclones and other instances of extreme weather.
The Southeast Asia partnership is led in the Philippines by the Philippine Atmospheric, Geophysical and Astronomical Services Administration (PAGASA), and in Malaysia by the National Disaster Management Agency (NADMA). The program was launched in the Philippines on July 21 and in Malaysia on July 25.
Simon Vosper, Met Office director of meteorological science, said, "Southeast Asia is regularly rocked by high-impact weather events. Our partnership program will build further understanding of the development of severe weather in the region, improving the accuracy and detail of forecasts through more refined models. The end result is improved forecasts saving lives and protecting livelihoods."
The Weather and Climate Science for Service Partnership (WCSSP) program aims to develop partnerships harnessing UK scientific expertise to help strengthen the resilience of vulnerable communities to weather and climate variability. It is supported by the UK government's Newton Fund, which was set up to boost relationships between the UK and emerging knowledge economies. WCSSP Southeast Asia builds on other projects around the world, including those in Brazil, China and South Africa.
---
WMO president outlines strategic perspectives on new era for weather satellites
A top-level World Meteorological Organization (WMO) delegation has given its strategic perspectives on a new era for environmental satellites as part of a keynote speech at the National Oceanic and Atmospheric Administration (NOAA) Satellite Conference, held in New York on July 17-20, 2017.
The speech focused on the latest satellite developments for weather forecasting, disaster risk reduction and climate monitoring, including GOES-16, which is the most advanced weather satellite developed in the USA.
David Grimes, WMO president, said, "Satellite Earth observation is critical to inform our understanding and actions with respect to our environment, climate and weather, and to meet our global commitments on climate change and sustainable development.
"We have a responsibility to use the enormous potential of Earth observations to become more resilient through strengthened, coordinated, comprehensive and sustained monitoring of Earth's hydrosphere, atmosphere, cryosphere, biosphere and landscape changes. While the future of satellite Earth observations is exciting, it is not without its challenges."
From a WMO perspective, Grimes stressed the need to find a satellite funding model that benefits from private sector innovation, while respecting resolutions on free and open data, especially for predicting extreme weather events in developing countries.
Elena Manaenkova, deputy secretary-general, WMO, outlined activities to coordinate satellite observing systems, orbits and instruments for the WMO Integrated Global Observing System (WIGOS), and to develop the architecture for climate monitoring from space.
"WMO's support and training activities are designed to ensure that satellite users are confident and well prepared to maximize the potential of the new generation of satellites in improving weather forecasts; preventing weather, water and climate-related disasters; and monitoring environmental change," Manaenkova said.
"WMO-led collaboration among satellite operators and users is critical to meet users needs and ensure safety and resilience of people all over the world."
---
FTS to launch automated observation system at Meteorological Technology World Expo
At this year's Meteorological Technology World Expo, FTS will launch its new Remote Automated Observation System (RAOS), a camera-based solution that delivers a new dimension of environmental monitoring.
Besides being able to keep watch over an area, the RAOS features several key benefits including the ability to: customize the solution by adding up to four cameras including infrared and panoramic options; view key weather data and site information directly on user images; use a time-lapse feature to monitor environmental changes over time; and request images/video on-demand, per weather event, or on a schedule.
The RAOS also harnesses the power of the Internet of Things (IoT) through FTS360 web-based software. FTS360 allows the RAOS to communicate with other sensors, enabling active responses from passive devices. For example, a radar stage sensor could detect a sudden increase in water level, triggering the RAOS to take and send a photo to the user. This instant notification reduces response times while providing complete situational awareness through data and images.
Last year at Meteorological Technology World Expo in Madrid, Spain, FTS debuted the LT1-CELL to much interest, and this year the company is also launching the LT1 GOES/EUMETSAT, a compact solution for monitoring single or stacked sensors through a geostationary operational environmental satellite (GOES) or EUMETSAT connection. The FTS360 platform will also be on display, demonstrating how simple yet powerful a network of connected devices can be.
Alongside its observation systems, FTS will also showcase its growing portfolio of Industrial IoT (IIoT) solutions for the hydromet market.
---
BHGE to unveil latest water depth sensor at Meteorological Technology World Expo
The new water depth sensor with SDI-12 communication protocol from Baker Hughes, a GE company (BHGE) – which the company is officially launching at this year's Meteorological Technology World Expo – is the latest addition to its range of highly-accurate barometers and advanced water depth sensors and suite of pressure calibration equipment.
Other products on show include economic solutions for barometric measurement for second-tier weather stations; a portable transfer standard barometer for on-site calibration checking; and a low-power device suitable for extended battery life in remote applications.
Due to the rise in the number of extreme weather events, the need for accurate barometer readings in some of the world's most remote and varied environments has never been higher. Since last year's expo in Madrid, Spain, several high-accuracy manufacturers have designed and integrated BHGE's products into their weather stations.
BHGE will use this year's expo to continue to promote its range of pressure sensors and instruments, which have been designed to operate in the most hostile of environments.
---
June 2017
WMO and FAO sign climate MoU
The World Meteorological Organization (WMO) has signed a memorandum of understanding with the United Nations (UN) Food and Agriculture Organization (FAO) to further their joint response to climate variability and change.

The newly strengthened partnership will see the organisations work together to develop agro-meteorological services and make these more accessible to farmers and fishers. They also aim to improve global and region-specific monitoring for early warning and response to high-impact events such as droughts.

The WMO and FAO will collaborate on technical cooperation, joint programmes and project development. The agreement was signed by FAO director general José Graziano da Silva and WMO secretary general Petteri Taalas at an international seminar on drought held in Rome, Italy, on 19 June.
---
New Australian AWS in Adelaide
Installation of a new Adelaide automatic weather station (AWS) will allow the Australian Bureau of Meteorology to recommence the collection of climate records at a site where their collation dates back more than 160 years. The new AWS is located in the Park Lands (a public park that rings the city centre) at West Terrace.

"Pioneering meteorologist Sir Charles Todd started recording weather observations at this site in 1855," said the Bureau's state manager, John Nairn. "Globally, records of this length and quality are extremely rare and are significant in underpinning our understanding of Australia's climate, its variability and trends. This will assist in planning for the community's longer-term needs," he added.

Adelaide's new AWS is one of more than 550 across Australia, and is the first capital city AWS with an Aboriginal co-name.

"We considered the role of an automatic weather station and decided upon the Kaurna name, 'Ngayirdapira' which means 'concerning the sky'," said Kaurna elder Uncle Lewis O'Brien.
---
European climatology research boosted by new supercomputer
A new supercomputer from Bull, an Atos technology brand, will boost climatology research in France as well as across Europe.

Due to be delivered to GENCI (Grand Équipement National de Calcul Intensif) in Paris, France, by the end of 2017, the Bull Sequana supercomputer has an overall power of 9 petaflops and can carry out 9 million billion operations per second. It will be made available to French and European researchers for use in academic and industrial fields that require extremely high computing and data processing power.

In climatology, the supercomputer will help to model past, present and future meteorological conditions within the framework of international activities carried out by the Intergovernmental Panel on Climate Change (IPCC). It will also be used in life sciences, energy and astrophysics research.

The Bull Sequana is the equivalent of 75,000 PCs. An extension of its configuration is planned for 2019, when its computing capacity is set to increase to more than 20 petaflops.
---
UK university employs Biral detector for cloud electrification research project

Meteorological equipment specialist Biral has installed a thunderstorm detector at the Science and Technology Facilities Council (STFC) at the Chilbolton Observatory near Andover in the UK.

The Biral BTD-300 sits alongside cloud radars, and is being used by a team from the University of Reading to investigate the early stages of thunderstorm electrification. The academics hope to shed light on how some convective clouds become strongly electrified.

Data from the highly sensitive quasi-electrostatic antennas of the BTD-300 is used to detect the first signs of charge accumulating on raindrops and the presence of charged particles drifting in the wind. This is combined with profiles of the overhead cloud and precipitation measured by the observatory's microwave radars. Details of the atmosphere up to the cloud base is provided by laser cloud base recorders.

The BTD-300 will provide the range and bearing of all lightning activity up to 80km (50 miles) from the site. This will be combined with radar and satellite images of the surrounding atmosphere to deliver a complete assessment of developing thunderstorms.
---
Innovim in NOAA contract win
Innovim has won a ProTech-Satellite Domain small-business contract from the National Oceanic and Atmospheric Administration (NOAA) in the USA.

Part of a suite of multiple-award indefinite delivery, indefinite quantity (IDIQ) contracts, it will support the full range of satellite activities, including satellite missions, and management of the environmental data resulting from those missions.

NOAA's environmental satellite data is essential for forecasting weather, analysing environmental and climate phenomena, and monitoring hazards worldwide.

Founded in 2002, Innovim is an NOAA- and NASA-focused, woman-owned small business (WOSB) based in Maryland, USA.
---
May 2017
Breakthrough in hurricane study
Researchers believe they have found a new way to monitor the intensity and location of hurricanes from hundreds of miles away by detecting atmospheric waves that radiate from a storm's centre.

Scientists from the University of Miami (UM) Rosenstiel School of Marine and Atmospheric Science in Florida, and the Hurricane Research Division of the National Oceanic and Atmospheric Administration (NOAA), presented direct observations of the waves, obtained by NOAA aircraft flying in hurricanes and by a research buoy located in the Pacific Ocean. The waves, known as atmospheric gravity waves, are produced by strong thunderstorms near the eye and radiate outwards in expanding spirals.

"These very subtle waves can sometimes be seen in satellite images," said David Nolan, professor in the Department of Atmospheric Sciences at the Rosenstiel School and lead author of the study. "We were able to measure them in aircraft data and surface instruments."

Nolan said that computer simulations performed at the UM Center for Computational Science can reproduce the waves, showing that the wave strengths can be related to the maximum wind speed in the core of the storm. These findings suggest that hurricanes, cyclones and typhoons could be monitored from hundreds of miles away with relatively inexpensive instruments, such as barometers and anemometers, much like earthquakes from around the world are monitored by seismometers.

The researchers analysed data obtained from 25 different penetrations by NOAA P3 aircraft into five hurricanes in 2003 and 2004, as well as data from the Extreme Air-Sea Interaction (EASI) buoy deployed in the Pacific Ocean by UM Rosenstiel School scientists in 2010.

The study, Spiral Gravity Waves Radiating from Tropical Cyclones, was published in the journal Geophysical Research Letters.
---
Biral and Microstep-MIS win Nepal project
Meteorological specialist Biral and information system manufacturer MicroStep-MIS are to supply 88 automatic weather stations (AWS) in Nepal as part of the country's Building Resilience to Climate Related Hazards project.

The 16-month project will see the partners work with Nepal's Department of Hydrology and Meteorology. Work has begun at three civilian airports: Tribhuvan International, situated about 5km east of Kathmandu city; Bhairahawa, a major trade hub between Nepal and India; and Pokhara, a city favoured by tourists and situated approximately 200km west of Kathmandu.

MicroStep-MIS's Automated Weather Observing System (AWOS) is being installed at each of the airports along with 26 of Biral's SW-250 Visibility and Present Weather Sensors, plus one VPF-750 sensor at Kathmandu airport, all conforming to RVR (runway visual range) and local weather condition requirements. All of the meteorological sensors are integrated into centralised software.

Several different types of station networks are being used for this project. The first is the Regional Baseline Synoptic Network consisting of 11 stations. These stations will form the backbone of many application areas, not just the synoptic and aeronautical meteorology, and are maintained in operation as the highest-priority stations.

The second is the Agrometeorological Observation Network consisting of 24 stations. This network will provide observations to support the understanding of the impacts of weather and climate on agriculture in Nepal. The locations of the stations are selected to cover the most important agricultural areas in Nepal.

The third type is a supplementary station network consisting of a further 45 stations. This will support the first two networks.
---
Cyclone forecast programme launches in Australia
Australia's Bureau of Meteorology (BoM) has announced a new research programme aimed at delivering better tropical cyclone forecasts for offshore facilities. The two-year programme will use new meteorological modelling designed to produce longer-range and more detailed tropical cyclone forecasts.

"It also helps predict the threat of destructive cyclone waves off the coast of Western Australia and the Northern Territory," said BoM resource sector manager, Andrew Burton.

"The improvements will allow oil and gas operators to make better-informed decisions when preparing their offshore infrastructure for the potential impacts of cyclones."

Burton added that the research allowed BoM to paint a much clearer picture of the threat from a tropical cyclone at a particular location, three to seven days ahead of the event.

"Another important new capability is guidance around wave conditions associated with cyclones. Offshore operators will now have a better insight into the highest wave conditions that could be experienced at a location, allowing them to safely relocate ships or de-man facilities if required," Burton concluded.

The programme is jointly funded by Shell, Woodside, Chevron and INPEX.
---
Lufft launches new snow depth sensor

In its third product launch in as many weeks, meteorological measurement specialist Lufft has brought the SHM31 laser-based snow depth sensor to market.

The new tool measures snow depths of up to 15m in seconds. It is the successor to the SHM30, launched by Jenoptik in mid-2009, and part of Lufft's range of optical sensors since 2014.

New features include communication interfaces (RS232, RD485 and SDI-12 communication) designed to make the SHM31 fully compatible with Lufft's UMB standards. The new sensor also has an integrated window heater for the entry and exit points of the laser beam, as well as an in-built protractor for simple assembly. The amount of energy required by the SHM31 is lower than the SHM30, despite the expanded, two-stage heating function, which ensures that measurements are not affected by even the most extreme weather conditions.

The snow-depth sensor is based on an opto-electronic laser distance-measuring tool, and works with a visible measuring beam that is easy to configure. It recognises layers of snow of up to 15m on natural, diffusely reflective surfaces. Measurements are accurate down to a few millimetres.

Additionally, the integrated evaluation of signal intensity enables reflectivity to be assessed, and the base surface to be differentiated from the snow. The optical measurement principle is not affected by temperature fluctuations, and, in conjunction with improved accuracy, has an advantage over traditional ultrasonic sensors. Robust casing, with IP68 certification, means that no maintenance is required.

The SHM31 has been designed for use by meteorological services, airports, road maintenance depots and ski resorts, among others.
---
April 2017
WMO launches dust report
The World Meteorological Organization (WMO) has launched its first annual Airborne Dust Bulletin.

The bulletin, issued on 12 April, provides an overview of atmospheric dust levels and geographical distribution in 2016. Estimates of dust content were derived from daily forecasts from the Copernicus Atmosphere Monitoring Service of the European Centre for Medium-Range Weather Forecast.

The 2016 global average aerosol optical depth, a measure of the dust burden, was similar to previous years, according to the report, which highlighted particularly severe sand and dust storms in Iran and China/Mongolia. It found no clearly defined trend between 2003 and 2016, due to modelling capacity constraints and the relatively short time since systematic observations began in 2003.

"Every year, an estimated 2,000 million tons of dust is emitted into the atmosphere. While much of this is a natural part of Earth's cycles, a significant amount is generated by human-induced factors, especially unsustainable land and water management," said Enric Terradellas, chair of WMO's Sand and Dust Storm Warning Advisory and Assessment System steering committee.

"Dust is a major component of atmospheric aerosols, which affect the global climate and have important effects on weather through their influence on atmospheric dynamics, clouds and precipitation," Terradellas added.

Most of the dust in 2016 was concentrated around its main sources: the belt of tropical and subtropical deserts of the northern hemisphere, stretching from the Sahara through the Arabian and Syrian deserts to the Thar desert between India and Pakistan, as well as the mid-latitude deserts of Central Asia and China/Mongolia.
---
Meteosat-7 decommissioned
Meteosat-7, the last first-generation Meteosat geostationary spacecraft, has been decommissioned after almost 20 years of service.

The final command was sent at 09:00 UTC on 11 April, ending the service record not only of one spacecraft, but of the whole Meteosat first-generation mission begun by the European Space Agency in 1977.

Launched on 2 September 1997, Meteosat-7 was designed to fill the gap between the Meteosat Operational Programme (encompassing Meteosat-4 to -6) and the first satellite of the second generation, Meteosat-8 (launched on 28 August 2002). For the past decade, it has delivered observations of the Indian Ocean from geostationary orbit. After the December 2004 Indian Ocean tsunami, Meteosat-7 became an essential part of the tsunami warning system, acting as a relay spacecraft for tsunami warning buoys.

EUMETSAT director-general Alain Ratier said, "This last manoeuvre puts a safe end to a foundational programme. Not only did the successful Meteosat first-generation mission give birth to EUMETSAT in 1986 and make it a true satellite operator in 1995, but it shaped satellite meteorology in Europe, testing concepts such as rapid scanning of thunderstorms and extraction of wind vector products from the tracking of water vapour patterns across successive images."
---
Drones allow measurements within volcanic clouds
A team of volcanologists and engineers from the universities of Bristol and Cambridge in the UK has collected measurements from directly within volcanic clouds, together with visual and thermal images of inaccessible volcano peaks.

A recent 10-day research trip saw the team carry out several proof-of-concept flights at the summits of both Volcán de Fuego and Volcán de Pacaya in Guatemala. Using lightweight modern sensors, they measured temperature, humidity and thermal data within the volcanic clouds and took images of multiple eruptions in real time.

This is one of the first times that bespoke fixed-wing unmanned aerial vehicles (UAV) have been used at a volcano such as Fuego, where the lack of close access to the summit vent has prevented robust gas measurements. The UAVs were flown beyond-visual-line-of-sight at distances of up to 8km away, and 10,000ft above the launch site.

The group plans to return to Guatemala later in 2017 with a wider range of sensors including a multiGAS gas analyser (for CO2, SO2 and H2S), a four-stage filter pack, carbon stubs for ash sampling, thermal and visual cameras, and atmospheric sensors.

Dr Emma Liu, volcanologist at the Department of Earth Sciences at Cambridge, said, "Drones offer an invaluable solution to the challenges of in-situ sampling and routine monitoring of volcanic emissions, particularly those where the near-vent region is prohibitively hazardous or inaccessible. These sensors not only help to understand emissions from volcanoes, they could also be used in the future to help alert local communities of impending eruptions – particularly if the flights can be automated."
---
JPSS upgrade improves weather data delivery
Aerospace firm Raytheon has completed an upgrade and final testing of the data transport and processing system for the Joint Polar Satellite System Common Ground System (JPSS), which provides weather and environmental data used by NASA, NOAA, the US Department of Defense and the three agencies' international partners.

According to Raytheon, the upgrade accelerates data processing and dissemination, improves system availability and provides cybersecurity protection of the data and the common ground system (CGS) in support of the upcoming JPSS-1 launch as well as future satellite missions.

"The new system will output 11TB of data per day being downlinked from the JPSS constellation," said Matt Gilligan, vice president of Raytheon's Navigation and Environmental Solutions. "JPSS CGS will speed up delivery of weather data to regional forecast centres that build weather models, track environmental aerosols and map polar ice movements."

The system upgrade precedes the final major step: an upgrade of the flight operations elements of the CGS, prior to the JPSS-1 launch, which is scheduled for September 2017.
---
ISS investigation capability boosted
Orbital ATK's Cygnus spacecraft delivered more than 7.6 metric tons of cargo to the International Space Station on 22 April.

Orbital ATK's seventh cargo delivery flight to the station launched on 18 April on a United Launch Alliance Atlas V rocket from Space Launch Complex 41 on Cape Canaveral Air Force Station in Florida, USA. The spacecraft will remain at the space station until July before its destructive re-entry into Earth's atmosphere.

The mission, which is under NASA's Commercial Resupply Services contract, will support dozens of new and existing investigations as Expeditions 51 and 52 contribute to approximately 250 science and research studies.

Among the equipment on board the flight were 28 cubesats, which, as part of the NanoRacks-QB50 project, will be used to study the upper reaches of Earth's atmosphere over the next one to two years. The QB50 satellites conduct coordinated measurements on a poorly studied and previously inaccessible zone of the atmosphere referred to as the thermosphere. The project monitors different gaseous molecules and electrical properties of the thermosphere to better understand space weather and its long-term trends.
---
March 2017
Higher sensitivity and greater range resolution
Models that forecast atmospheric events represent complex relationships between many factors, including the impact of natural and man-made aerosols on local and global climates. By gathering detailed data over time, our understanding of the composition and movement of aerosols expands. Sigma Space's new high-definition Mini Micro Pulse Lidar (MiniMPL-HD) remote sensing system provides greater granularity for assessing airborne particles and supports increased accuracy in predictive analysis.

The MiniMPL-HD leverages the compact design of the current MiniMPL system and adds enhanced capabilities valuable to meteorologists, researchers and air quality professionals. Upgrades to the unit are responsible for increasing the efficiency, resulting in more pulses and more returns. Also, the range resolution of the MiniMPL-HD has been doubled to 2.4m, up from 5m. This increased sensitivity to aerosols is extremely valuable for calculating continuous boundary layer height measurements in regions where aerosol loading is typically low.

Real-time integration of radiometric data with the MiniMPL-HD data stream is another important feature. The result is a more complete atmospheric profiling that includes moisture and temperature piped in from a radiometer, mixed with highly accurate boundary layer aerosol data.

"Sigma Space is continuing to invest in MPL and MiniMPL," said Justin Fisher, director – atmospheric lidar products at Sigma Space. "Our goal is to solidify our advantage in sensitivity, and innovate with miniaturization without sacrificing quality."

The high-fidelity data gathered by the MiniMPL-HD system enables researchers to achieve a better understanding of the atmosphere and related impacts on the global climate, which in turn adds value to predictive atmospheric models.
---
Sun glitter helps monitor waves
Scientists are using sun glitter in images from the Copernicus Sentinel-2 satellite mission to map wave movement.

Use of measurements of roughness from satellite sensors is not new, but by capturing the glitter of sunlight on water, Sentinel-2's multispectral camera can provide a wealth of information about the direction, height and movement of waves.

A team of scientists has developed a way to interpret the sun glitter, and then used this information to create a series of detailed images of wave patterns off the coast of Dorre Island in Western Australia. Building on this technique and through the European Space Agency's (ESA) Scientific Assessment of Ocean Glitter project, the team was able to map how waves develop in regions where there are strong ocean currents.

Team member Vladimir Kudryavtsev, of the Russian State Hydrometeorological University's Satellite Oceanography Laboratory, told the European Space Agency, "We went on to test our method on the Agulhas Current, a historically treacherous current around the southernmost coast of Africa.

"Using data collected in January 2016, we traced the behaviour of ocean waves and their interactions with currents. We found that ocean surface currents transform dominant surface waves, which are the tallest surface waves in a given area, driven by local wind and large-scale swells. They also showed how wave packets can be deflected and trapped by ocean surface currents, creating surface waves that are much higher than normal."

Two Sentinel-2 satellites are now in orbit, potentially doubling the amount of data available for using glitter to map ocean waves.

The Copernicus program is managed by the European Commission.
---
New study of space weather "scientific gold nuggets"
A new, highly sensitive GPS receiver will help detect subtle fluctuations in the signals from GPS satellites on the International Space Station (ISS).

Developed by engineers at Cornell University in the USA, the FOTON (Fast Orbital TEC for Orbit and Navigation) GPS receiver arrived at the ISS last month on board the SpaceX Falcon 9 rocket. It will study 'space weather' – charged particles in the plasma of space that affect the performance of communications and navigation satellites.

Steven Powell of Cornell University told the university newspaper, the Cornell Chronicle, "These fluctuations are typically filtered out by standard GPS receivers, but they are the scientific 'gold nuggets' in the data analysis process."

FOTON is part of the GROUP-C (GPS Radio Occultation and Ultraviolet Photometry –Colocated) project. Scott Budzien of the Naval Research Laboratory is project leader, with Powell heading the Cornell team.

Consisting of a GPS receiver and three antennas, FOTON shares a mounting palette on the outside of the ISS, receives power from large solar arrays, and uses the data communications system on the station to send data back to Earth.

The equipment has been configured to maximize GPS signals and minimize unwanted reflections from the large metal portions of the ISS, enabling it to focus on GPS satellites as they move across the sky.

Powell said, "This experiment will allow us to study different, but equally interesting, effects in the ionosphere closer to the equator, where most of the world's population lives. The GROUP-C experiment will last up to two years, so the quantity of data and the potential for meaningful scientific discovery is huge."
---
First images received from China's latest weather satellite
Fengyun-4, the first of China's second-generation geostationary orbiting weather satellites, has sent its first collection of images and data.

The images were taken by a multichannel scanning imagery radiometer and an atmospheric sounding interferometer. Information gathered included data on the distribution and intensity of lightning, from a lightning imaging sensor, said Tian Yulong, chief engineer at the State Administration of Science, Technology and Industry for National Defence (SASTIND), which published both the images and data.

Fengyun-4 was launched from Xichang Satellite Launch Center in China's Sichuan Province on December 11, 2016. All major tests on its functionality and imaging modes have been completed and the satellite is expected to be fully operational in June or July 2017.
---
Nanosatellites deployed in vertical profile drive
Spire Global has developed, tested and deployed a constellation of nanosatellites with high-quality global navigation satellite system (GNSS) receivers.

Data from the satellites will provide high-quality measurements (vertical profiles) of atmospheric temperature, pressure and water vapor via GNSS-occultation. The new constellation involves eight satellites capable of producing a minimum of 1,000 profiles a day. Spire's launch schedule aims to increase this to at least 100,000 profiles a day within two years, providing a daily vertical sounding of the atmosphere in each 100 x 100km square across the planet.

The methodology uses publicly funded and publicly available research and development on GNSS radio occultation (GNSS-RO) carried out by various research groups, including that responsible for the ongoing Constellation Observing System for Meteorology, Ionosphere, and Climate (COSMIC) constellation.

Spire's data access models conform to the World Meteorological Organization's (WMO) Resolution 40, which governs the provision of meteorological data. For example, the company's "purchase once, distribute everywhere" license allows for unlimited worldwide redistribution, meaning that data is free at the point of use for public weather predictions. The satellites are manufactured in Glasgow, Scotland, UK, and can be built and launched within weeks due to their small size.
---
Canada strengthens climate investment
Environment and Climate Change Canada has announced its latest investment in state-of-the-art weather-prediction information technology and radar modernization.

The Canadian government department is spending C$83m (US$62m) on 20 new weather radars, which will be supplied by Selex ES. The first will be in situ by autumn 2017, with subsequent installations over the next seven years. The contract also contains options to install up to 13 extra radars in the Canadian Weather Radar Network by March 31, 2023.

The radars will be at sites across Canada and will enable better anticipation of severe weather. They will supply data to almost every sector of the economy, from health sciences to environmental management, agriculture and transportation.

The Selex ES contract comes less than a year after Environment and Climate Change Canada awarded a C$430m (US$322m) contract to IBM Canada to design, build, renew and host a state-of-the-art, high-performance computing (HPC) solution in Montreal, Quebec. The combined use of the new radars and the recently acquired supercomputer will give Canadians more time to take appropriate action to protect themselves, their family and their property from the effects of severe weather.

"This important investment will help us modernize Canada's weather-service infrastructure and make sure our meteorologists can provide the fastest and most accurate weather forecasts. This is essential to protect the health, safety and security of Canadians. It is also a central service for our economic prosperity in the face of changing weather and environmental conditions", said Catherine McKenna, Minister of Environment and Climate Change, Government of Canada.
---
February 2017
Research equipment mission approach aborted
A mission carrying more than 2.5 tonnes of research equipment, cargo and supplies to the International Space Station (ISS) has failed to dock.

A problem with the GPS system occurred on 22 February, three days into the mission, when the SpaceX supply ship Dragon was less than a mile from the ISS. The approach was aborted, although NASA has since confirmed that neither the station nor its six-person crew were in any danger. Another attempt is to be made on Thursday, 23 February.

"As a pilot it is sometimes better to accelerate and circle around than attempt a difficult landing," French astronaut Thomas Pesquet tweeted from the ISS. "Same in space – we'll be ready tomorrow!"

This is the first time SpaceX has had to abort a mission at this late stage. It occurred just hours after Russia successfully launched an ISS-bound cargo ship from Kazakhstan, the first since a failed launch in December.

Dragon took off from Launch Complex 39A at NASA's Kennedy Space Center in Florida on 19 February. It was the first commercial launch from the historic pad.

One of the most important pieces of equipment being transported by Dragon is SAGE III (Strategic Aerosol and Gas Experiment). Part of one of NASA's longest-running Earth observation programmes, it will examine the levels of ozone, aerosols, nitrogen dioxide and water vapour in the stratosphere and troposphere high above Earth. The instrument, which weighs one tonne, will be connected to the outside of the station to make daily observations over several years.

Among the materials carried on board Dragon is a crystal growth experiment that will crystallise a monoclonal antibody that is undergoing clinical trials for the treatment of immunological diseases. Growing the crystal in space will allow it to develop better than it would on Earth, where gravity causes crystals to collapse on themselves, NASA says. Also on the flight are supplies that will enable further study of stem cells such as those used to treat strokes and other medical conditions.

The mission is SpaceX's 10th cargo flight to the ISS under NASA's commercial resupply services contract. Dragon's cargo will support dozens of the more than 250 science and research investigations scheduled for the station's Expeditions 50 and 51.

Dragon is expected to leave the space station in late March, returning with almost 2.3 tonnes of science, hardware and crew supplies.
---
New weather alerts not dependent on networks
The Weather Company and its parent group IBM have introduced new mesh network alerts technology that will help keep cell phone users connected even when internet connection is limited or power outages have caused network disruptions.

The developers hope that the technology will allow people in developing countries to communicate about severe weather events or disasters as they unfold. It is to be made available in emerging markets across Asia, Latin America and Africa through The Weather Channel app for Android devices, which will use peer-to-peer connections within the mesh network to send alerts to individuals via their smartphone devices. The mesh network technology links other nearby phones to extend the signal to help keep users connected and informed.

Peer-to-peer technology converts mobile devices into links within the mesh network, allowing devices to 'talk' directly to each other without using cell tower infrastructure. Each smartphone becomes a node that stores the message and passes it to the next nearest device, creating a chain to reach more devices without the need for a cellular network.
---
NOAA names SETS contract winner
The National Oceanic and Atmospheric Administration (NOAA) has awarded a US$113m Systems Engineering and Technical Services (SETS) contract to Vencore, a Virginia-based information solutions provider.

Under the terms of the contract, which initially runs for a year, with four one-year options, Vencore will support NOAA's National Environmental Satellite, Data and Information Service (NESDIS).

NESDIS acquires and manages the nation's operational environmental satellites; operates NOAA's National Centers for Environmental Information (NCEI); provides data and information services including Earth system monitoring; performs official assessments of the environment; and conducts related research.

Vencore will work closely with NESDIS to deliver systems engineering services and solutions to sustain legacy systems and enable the transition of future ground systems for new environmental satellites, among them GOES-R and JPSS.
---
A lidar lightning first
In a national first, US scientists have used high-resolution lidar data to determine lightning's impact on tropospheric ozone.

Scientists at the University of Alabama in Huntsville (UAH) have used the university's Rocket-city Ozone Quality Evaluation in the Troposphere (RO3 QET) lidar to measure ozone that was chemically produced by summertime lightning over the USA. Following further development, the research could play an important role in air quality prediction and assessment.

The UAH team estimated lightning nitric oxide emissions based on the observations of Vaisala's US National Lightning Detection Network (NLDN). They then measured the resulting ozone created by the lightning downwind of the storms, where clear conditions allowed lidar to function, and quantified the ozone enhancements due to lightning.

In the winter, intermixing of stratospheric ozone with the troposphere in a process called stratospheric tropospheric exchange (STE) is the chief means of ozone transport into our air, but in summertime that process subsides and lightning bolts create significant ozone enhancements in the middle to upper troposphere, particularly in the south-eastern USA.

"When lightning introduces ozone into the upper troposphere, there is some downward transport mechanism that will affect lower tropospheric ozone," explained Dr Lucy Wang, a UAH Earth Systems Science Center (ESSC) research associate and lead author of a paper on the team's findings.

"In the troposphere, ozone is considered a bad gas," she said. "It can worsen bronchitis, emphysema and asthma. We are investigating the processes that influence the ozone production. There are still many uncertainties in this research that we are trying to improve upon."

The team used data from a lidar facility on the top floor of the National Space Science Technology Center (NSSTC) in Cramer Research Hall in Huntsville, Alabama, one of just five such atmospheric lidar facilities in the USA and about 15 worldwide.
---
South Doodlakine Doppler radar images now online
Images from Australia's South Doodlakine Doppler radar are now available on the website of the Australian Government's Bureau of Meteorology.

The South Doodlakine radar is the second of three Doppler radars that are part of an A$23m (US$18m) project managed by the Government Department of Agriculture and Food, Western Australia (DAFWA).

The images from the radar will allow farmers to access real-time information on rainfall and wind, and are intended to help transform the way they do business. Emergency services operating in the area will also benefit from this real-time information. The first radar, at Newdegate, came online in October 2016, and images from the third Doppler radar, at the Watheroo site near Marchagee, are expected to be available online from April 2017.

Each radar will provide a maximum range of 200km, and together they will improve coverage across the Western Australia wheatbelt region.

The radars are being built and maintained by the Bureau of Meteorology, and the data will be shared as part of the Bureau's national radar network. Doppler radars provide some of the best tools for observing real-time rainfall across large areas, enabling farm businesses to make more accurate on-farm decisions.

Imagery from the radars can provide farm businesses with improved information on prevailing weather conditions, allowing them to make timely strategic and tactical decisions around the time of sowing, chemical and fertiliser applications and the movement of stock, which can potentially result in significant financial savings.
---
January 2017
NOAA announces US$45m contract decision
The National Oceanic and Atmospheric Administration (NOAA) has awarded the National Mesonet Program contract to SGT, a Greenbelt, Maryland-based provider of IT, engineering, operations and science services.

The three-year contract involves the purchase of meteorological observational data derived from non-federal observing networks. These observations support NOAA's meteorological, hydrologic and related environmental observing capabilities, allowing it to offer significantly improved predictions of high-impact, local-scale weather events.

"The National Mesonet Program, begun in 2009 with a small number of networks located mostly in south-central USA, has now grown to more than three dozen networks operated by the states and the private sector, including 20,000 observing platforms covering all 50 states," said Dr Curtis Marshall, the National Weather Service's National Mesonet Program Manager. "They provide a tremendously valuable source of data, including observations from surface and subsurface platforms, vertical profilers and aircraft, for improving NWS warning and forecast operations."

Earth Networks, Weather Telematics, WeatherFlow, Synoptic Data Corporation, Sonoma Technology Incorporated, Panasonic Avionics Corporation and the University of Oklahoma will work with SGT on the programme.

"We are thrilled that NOAA has awarded the National Mesonet Program contract to us," said SGT CEO Dr Kam Ghaffarian. "SGT remains fully committed to partnering with NOAA and supporting the important mission and objectives in the years ahead."
---
Campbell Scientific releases addition to CR300-series datalogger range
Campbell Scientific has revealed the latest addition to its CR300-series measurement and control dataloggers.

The CR310 has the capabilities of the CR300 but benefits from the addition of removable connectors and an integrated 10/100 Ethernet connection. It is available with optional integrated wi-fi and licence-free radios for wireless networking. Providing complete compatibility with a variety of measurement and communication protocols, the CR310 supports TCP/IP, Modbus, DNP3, SDI-12, HTTP, FTP and email.

The first CR300 model was launched in March 2016. Utah-based Campbell Scientific has since released various onboard radio options. According to the company, the CR300 range combines many of the best capabilities of full-size Campbell Scientific dataloggers with the smaller size and price of its compact dataloggers. Among the new and improved features are a much richer CRBasic command set and serial communication capabilities, and the capacity for larger, more complex programmes. The CR300 also has its own onboard compiler.

The new dataloggers are the same size as the earlier compact Campbell Scientific dataloggers, making them potential drop-in replacements. They are also the first Campbell dataloggers that can measure 4mA to 20mA sensors natively. The new series has a 24-bit analogue to digital converter, a high-speed processor and a micro-USB port. For communication, the CR300 has full PakBus capability. The series is programmed with Campbell Scientific's LoggerNet software, which includes a point-and-click program generator, and a network planner for graphical layout of devices.
---
New app to provide timely satellite rain data
The University of California, Irvine, has launched smartphone app iRain, which aims to "put precision rainfall information into the pockets of the public".

The free app, which is available for iPhone and Android devices, will use satellite rain data from the university's weather tracking and analysis system. iRain users will also be able to enter their own rain or snowfall observations, joining what the University of California, Irvine (UCI) calls "a globe-spanning cadre of citizen hydrologists".

"The beauty of iRain is that it's an access point for an entire system that detects, tracks and studies precipitation on our planet," said lead developer Phu Nguyen, assistant adjunct professor of civil and environmental engineering. "We process the data from satellites and offer it to the end user, free of charge. As far as I know, we're the only institution offering such a system."

Features include a tool that displays the top 50 current extreme weather events around the world, animations that show varying levels of rainfall intensity and movement, a function to choose different time spans and a tool to zoom in to a local area. Many of iRain's functions have also been made available online, enabling researchers to generate and download reports.

UCI uses data from US, European and Japanese satellites, in collaboration with agencies such as NASA and NOAA, to produce rainfall information that is accessed by people in more than 180 countries.
---
Combitech to supply D-ATIS and ATIS to Sweden's four busiest airports

Combitech, part of the defence and security group Saab AB, has won a contract to supply a digital automated terminal information service system (D-ATIS) and ATIS to Stockholm Arlanda, Bromma Stockholm, Göteborg Landvetter and Malmö Sturup airports in Sweden.

The contract also includes an option for the supply of D-ATIS and ATIS to four additional airports. It was awarded following a competitive tender process.

The D-ATIS/ATIS systems for air navigation services can generate ATIS messages simultaneously for data link transmission alongside high-quality synthetic voice ATIS broadcasts. The provision of ATIS messages via data link allows pilots with ACARS-equipped aircraft to easily and quickly retrieve the necessary weather information prior to initial contact with the air traffic control. The new D-ATIS/ATIS systems will be integrated with the airports' existing AWOS systems, which were also supplied by Combitech.
---
Biral boosts sensor offering
Meteorological equipment specialist Biral has launched a new road weather sensor, the RWS-20, designed for the harsh roadside environment.

The RWS-20 is based on the existing SWS range of visibility sensors, and has been designed to allow easy integration with any road weather information system (RWIS). The new design is a compact forward-scatter measurement principle and remains accurate in all weather conditions, ensuring that local light sources, headlights or flashing signs do not affect its operation or reliability.

With a measurement range of 10m to 7.5km, the RWS-20 is intended for road applications where fog, rain, spray and snow can create dangerous driving conditions. The optical windows and sensor hoods contain heating for use in harsh weather conditions. Both optical windows have systems for lens contamination monitoring, meaning that the visibility output is constantly compensated to maintain accuracy while reducing routine maintenance duties.

The new sensor has a serial data output of RS232, RS422 or RS485, and provides analogue voltage visibility outputs (0-10V) or the extinction coefficient (EXCO). The RWS-20 also features optional relays that can directly connect to roadside signage and other control systems.
---
Breakthrough in ice charting
BMT Argoss, part of the BMT Group, has launched a new ice charting capability. The new capability will work alongside the company's existing weather forecasting services. As part of its development, several senior BMT meteorologists took part in a training programme at the Danish Meteorological Institute (DMI) in Copenhagen, Denmark.

Jean-Paul Lindeboom, director of metocean weather forecasting at BMT Argoss, said, "This combined capability under one roof is unique to the market. More and more of our clients are looking at these new, harsher environments; therefore, having both a comprehensive understanding of the weather and the ice regime makes sense as a complete package, providing cost efficiencies and a more progressive service for our customers."

BMT Argoss provides a wide range of services aimed at reducing the risks involved with offshore design and operations. A specialist in metocean modelling, meteorology and weather forecasting, as well as remote sensing data, it has contributed to projects in the Yamal Peninsula, the Baltic Sea, the Caspian Sea and the Sakhalin Sea area.
---
December 2016
ArabiaWeather and UK Met Office develop joint training initiative
A Dubai-based provider of weather products, services and solutions is to help extend the reach of the UK Met Office's training offering. Under the terms of the five-year agreement, ArabiaWeather will promote the Met Office's training products across the Middle East and Africa.

CEO Mohammed Al-Shaker said, "This is yet another partnership that is aligned with ArabiaWeather's strategy to bring world-class meteorological services to the region. We strive to bring the best weather products to the Middle East and North Africa region, which is suffering from adverse weather effects that cause the economy considerable losses."

Sally Wolkowski, head of the Met Office College, described her organisation as "delighted to be working with ArabiaWeather on this venture". Her colleague, Nicola Maxey, said that the Met Office is not currently providing training in the region. "We are available for ArabiaWeather when they have a training requirement," she added.

ArabiaWeather provides weather decision-support solutions to businesses across the Middle East, focusing on sectors particularly affected by weather conditions, among them media, aviation, oil and gas, agriculture, insurance and retail.
---
University meteorologists celebrate multi-million-dollar agreement
CIMMS, the Cooperative Institute for Mesoscale Meteorological Studies at the University of Oklahoma, has signed a five-year, US$95.3m agreement with NOAA.

CIMMS was created in 1978 through a cooperative agreement between the University of Oklahoma and NOAA. It already supports NOAA in two next-generation, long-term planning initiatives: Weather Ready Nation and Climate Adaptation and Mitigation.

"The university is very excited by this new five-year agreement totalling over US$95m to support important weather and climate research on our campus in cooperation with the federal government," said University of Oklahoma president David L Boren. "It underlines the importance of what is happening at our university. We are proud to be national leaders in this effort."

Randy Peppler, interim director of the institute, added, "CIMMS research improves our understanding of stormscale meteorological phenomena, weather radar and regional climate variations. Our ultimate goal is to help NOAA produce better forecasts and warnings that save lives and protect property."

CIMMS contributes to NOAA's enterprise-wide capabilities in science and technology, engagement, and organization and administration in several research areas. Among them are weather radar, stormscale and mesoscale modelling, forecast and warning improvements, impacts of climate change related to extreme weather events, and societal and socioeconomic effects of high-impact weather systems.
---
Australian flood modelling benefits from new data
Almost 30 extra years' worth of rainfall data from the Bureau of Meteorology has been added to the Australian Rainfall and Runoff (ARR) guidelines in their first major upgrade for three decades.

The new Intensity Frequency Duration (IFD) design rainfall estimates feature observations from over 10,000 rainfall gauging stations, including 2,300 extra rainfall stations. According to the Bureau's chief executive officer and director, Dr Andrew Johnson, they also benefit from statistical analysis techniques that weren't available at the time of the last upgrade.

He said, "The new IFDs more accurately estimate rainfall intensity, frequency and duration in specific locations, which helps Australia reduce the potential damaging impact of future floods."

The upgrade is the result of a four-year collaboration between Engineers Australia and Geoscience Australia. Stephen Durkin, chief executive officer of Engineers Australia, said that engineers and town planners had been using the ARR guidelines for almost 60 years and that the comprehensive revision will be invaluable today and into the future.

"More accurate, consistent datasets and guidance mean more accurate and consistent flood studies and mapping," he said. "This is not only good news for engineers and town planners, but also for Australians living in areas with a flood risk."

Geoscience Australia's chief executive officer, Dr Chris Pigram, explained that although the guidelines had been revised a number of times since their 1958 launch, there had not been a substantial update since 1987. This full upgrade was prompted by a review into a series of floods in the summer of 2010-11, including the flooding of Brisbane in January 2011.

Pigram said, "We've undertaken a complete revision of the guidelines to ensure they are a comprehensive and truly national product. For the first time they are completely based on Australian data. They include data from an extra 30 years of observations from across the continent, including at least 100,000 storm events."

In addition to the improved data, the revised guidelines have been made available online, for free. Ownership of the ARR guidelines has transferred from Engineers Australia to Geoscience Australia, on behalf of the Australian Government.
---
Asia-Pacific to drive weather forecasting system market value
Research has shown that the value of the global weather forecasting system market is to reach US$2.2bn in 2021, with the Asia-Pacific region expected to show the greatest growth.

According to Research Nester, the global market was worth US$1.5bn in 2015. Although North America is the leading region at present, Asia-Pacific is predicted to witness the highest compound annual growth rate (CAGR), 7.5%, over the five years to 2021. This growth will be driven by China and India in particular.
---
Collaboration targets better fog warning for airports in India
India's Ministry of Earth Sciences (MoES) is working to develop a system that can provide fog warnings between six to 24 hours in advance. It is hoped that the system will also calculate the severity of the fog and estimate when it is likely to lift sufficiently for aircraft to take off and land safely. The Winter Fog Experiment (WIFEX) is an intensive ground-based measurement campaign at Delhi's Indira Gandhi International Airport (IGIA). It was run as a pilot project at the airport in winter 2015 and in its current form will run until February 2017. The project's main objective is to study the characteristics and variability of fog events and associated dynamics, thermodynamics and fog microphysics, to achieve better understanding of the fog lifecycle and ultimately improve fog prediction.

Comprehensive ground-based instrumentation, including remote sensing platforms, has been installed at IGIA. Sensors will measure surface micro meteorological conditions, radiation balance, turbulence, the thermodynamic structure of the surface layer, fog droplet and aerosol microphysics, and aerosol optical properties. They will also monitor real-time sky images, and aerosol and fog water chemistry. The resulting measurements will be used to validate model forecasts and improve model capability. MoES hopes that the new model will be operational for the 2017-2018 winter season.

The Airports Authority of India, the Indian Institute of Tropical Meteorology, the National Centre for Medium Range Weather Forecast, the Indian Institute of Science Education and Research, and the India Meteorology Department are also contributing to the project.
---
November 2016
UN early warning systems initiative to prioritise the most vulnerable
Developing countries in Africa and the Pacific islands will be the first to benefit from upgraded early warning systems for weather- and climate-related shocks under an action plan outlined by the UN.

Mali, Burkina Faso, the Democratic Republic of the Congo and small island developing states in the Pacific will be supported to improve their early warning systems and forecast services with an initial US$12m in funding allocated by the Climate Risk and Early Warning Systems (CREWS) initiative.

CREWS aims to mobilise more than US$30m by July 2017 and US$100m by 2020. The international partnership seeks to strengthen risk information and early warning systems in vulnerable countries, and to leverage financing to protect populations exposed to extreme climate events.

The CREWS coalition is led by France, with support from Australia, Germany, Luxembourg, the Netherlands, Japan and Canada. It is being implemented by the WMO, the UN Office for Disaster Risk Reduction (UNISDR), the World Bank and the Global Facility for Disaster Reduction and Recovery (GFDRR).

"The increase in global temperatures is being accompanied by more extreme weather events. In addition to the need for climate change mitigation, there is a very strong need for climate change adaptation. Early warning systems are a very powerful way to adapt to climate change. The CREWS initiative will lead to concrete action that mitigates economic losses and saves lives," said WMO secretary-general Petteri Taalas.
---
New GOES-R weather satellite heads to orbit
GOES-R, the first of NOAA's highly advanced geostationary weather satellites, lifted off from Cape Canaveral, Florida, on 19 November 2016. The satellite will boost the USA's weather observation network and NOAA's prediction capabilities, leading to more accurate and timely forecasts, watches and warnings.

Once GOES-R is situated in orbit 22,300 miles above Earth in early December, it will be known as GOES-16. The new satellite will become operational within a year, after undergoing a checkout and validation of its six instruments.

"GOES-R is one of the most sophisticated Earth-observing platforms ever devised," said NOAA administrator Kathryn Sullivan. "GOES-R's instruments will be capable of scanning the planet five times faster and with four times more resolution than any other satellite in our fleet. With these new instruments and powerful new capabilities, GOES-R will strengthen NOAA's ability to issue life-saving forecasts and warnings and make the USA an even stronger, more resilient weather-ready nation."

GOES-R will provide high-resolution, rapid-refresh satellite imagery as often as every 30 seconds, allowing for a more detailed look at a storm to determine whether it is growing or decaying. Additionally, GOES-R's improved rainfall estimates will lead to more timely and accurate flood warnings.

GOES-R is flying six new instruments, including the first operational lightning mapper in geostationary orbit. This new technology will enable scientists to observe lightning, an important indicator of where and when a storm is likely to intensify. Forecasters will use the mapper to home in on storms that represent the biggest threat.

Improved space weather sensors on GOES-R will monitor the sun and relay crucial information to forecasters so they can issue space weather alerts and warnings. Data from GOES-R will result in 34 new or improved meteorological, solar and space weather products.
---
British Columbia begins investigating province-wide early warning system
The Canadian province of British Columbia (BC) is looking to create a province-wide earthquake monitoring and early warning system that will provide BC residents with early warnings of earthquakes via the internet, telephone and television. The system would also provide scientists with information on how infrastructure performs in an earthquake.

The province is currently gathering information on existing early warning systems, and investigating ideas on how to integrate and expand such a scheme. The current aim is to find out whether such a system is feasible, the best approach for implementation and the costs involved.

The reason for the interest in an early warning system is that scientists have estimated that there is a 30% chance of a damaging earthquake hitting British Columbia in the next 50 years.

A province-wide monitoring system would connect motion-sensor networks and individual sensors in the ground and in buildings. Detecting p-waves – the first, non-damaging waves in an earthquake – can give people vital seconds to protect themselves.

Alerts could also trigger shutdowns of transportation and utilities infrastructure.
---
Real-time weather analysis tool developed to help aircraft avoid bad weather

Avtech, a provider of weather technology to the aviation industry, has unveiled a new tool to provide aircraft with real-time weather data. According to the company, Aventus Sigma can help airlines lower costs, increase flight safety and reduce the effects of turbulence.

Avtech is the developer of the Aventus NowCast system, a product that enables airlines to save on fuel as a result of algorithms that provide more precise wind data for aeroplanes' navigational computers. Aventus NowCast is currently used by several major airlines, including Southwest Airlines, Lufthansa Cargo and EasyJet.

Aventus Sigma is partly based on the Aventus NowCast technology and can, as a result, be included in the NowCast service as an add-on module. Sigma combines the aeroplane's accessible data with real-time data from meteorological offices. According to Avtech, the new solution assists pilots in making better decisions concerning which flight path to take and the ideal altitude, which enables them to avoid problematic weather phenomena such as turbulence, ice buildup, thunderstorms and thunderclouds.

"Weather conditions can change suddenly, which makes relying on historical data in today's connected world increasingly outdated. We are certain that airlines, pilots and passengers alike will value Aventus Sigma due to improved flight safety, lower costs and reduced workloads in the cockpit. It also significantly reduces the risk of the aeroplane encountering turbulence and storms," said Bo Redeborn, chairman of the board at Avtech, Sweden.
---
UK Met Office wins Best Service Provider award
The UK Met Office aviation team has triumphed in the Best Service Provider category in the 2016 Airport Operators Association (AOA) Awards for its OpenRunway online weather forecasting and alerting product.

OpenRunway is an online weather forecasting package that uses the most accurate forecast information to enable airports and airlines to make weather-sensitive decisions throughout the year. As well as advising when runways require treatment due to weather conditions, it advises when they can stay open during marginal weather situations. This helps save costs and minimises disruption to passengers, airlines and airports.

The AOA award recognises the way in which the UK Met Office worked to customers' requirements, improved the existing product and made persistent efforts to further enhance its offering.

Ian Cameron, head of aviation at the Met Office, said, "The team are delighted to accept this award in recognition of the way they worked. This is a great example of how we combine our technical and scientific excellence with a detailed understanding of customers to add value to airports of all sizes across the UK."
---
October 2016
Launch date of NOAA's GOES-R satellite delayed
The launch of the first satellite in the National Oceanic and Atmospheric Administration's (NOAA) Geostationary Operational Environmental Satellite-R Series (GOES-R) has been delayed as a result of infrastructure damage following Hurricane Matthew. The original launch date was 4 November; a new launch date of 16 November has been requested. NOAA, however, has stated that this date may be adjusted further.

NOAA continues to work with its partners – NASA, United Launch Alliance and the US Air Force's 45th Space Wing – to assess the infrastructure and facilities necessary for GOES-R launch following Hurricane Matthew. Throughout the storm, the GOES-R spacecraft remained safe inside Astrotech Space Operations, in Titusville, Florida.

Once the GOES-R satellite reaches geostationary orbit, it will be known as GOES-16. There will be four satellites in the series: GOES-R, GOES-S, GOES-T and GOES-U.

GOES-R will provide continuous imagery and atmospheric measurements of Earth's Western Hemisphere, total lightning data, and space weather monitoring to provide critical atmospheric, hydrologic, oceanic, climatic, solar and space data.
---
New tool helps urban communities in the USA build climate change resilience
NOAA, alongside the US Forest Service and Harvard University, has developed a new tool to help urban authorities in the USA deal with weather- and climate-related impacts. The new Built Environment section of the US Climate Resilience Toolkit, which is part of President Obama's Climate Action Plan, has been designed to help address a wide range of risks facing cities and towns.

About 325 million people live in the USA today, and about eight out of 10 live in or near a city or town. Extreme events that hit these urban areas, such as heat waves, heavy downpours, floods and storm surges, often come with devastating and lasting impacts to lives, property and livelihoods. Economic inequality, environmental degradation and deteriorating public infrastructure can make some communities more vulnerable to weather and climate extremes than others.

"We worked with experts in the field and communities that would use the tool to ensure it meets the needs of urban and suburban planners," said Nancy Beller-Simms, who led the project with experts from the US Forest Service and Harvard University's Graduate School of Design.

The Built Environment feature provides authoritative, peer-reviewed information, real-world case studies, science-based decision-support tools, planning guides, training courses, reports, action plans and links to regional experts — all of which are freely available to the public.
---
UK Met Office predicts European winter one year in advance

Scientists at the UK Met Office have demonstrated significant advances in predicting up to one year in advance the phases of the North Atlantic Oscillation (NAO), which drives European and North American winter variability. The winters of Europe and North America are notoriously variable and until recently were believed to be too unpredictable to forecast, as they were driven by largely chaotic processes.

The NAO – a large-scale gradient in air pressure measured between low pressure around Iceland and high pressure around the Azores – is the primary driver of winter climate variability for Europe. In winters when the pressure gradient between the areas of high and low pressure is greater than average, the winter NAO is said to be 'positive' and Northern Europe experiences mild and stormy conditions. The opposing 'negative' phase is associated with more settled, dry and cold winter conditions, such as the extremely cold winter of 2009-2010, when the UK and Northern Europe were dry, but freezing cold, for months.

Dr Nick Dunstone, the Met Office's lead author, said, "Understanding and predicting the changes in the NAO could have significant economic benefits including potential boosts in climate services for a range of sectors including transport, energy, water management and the insurance industry.

"Two years ago we showed skill in predicting the winter NAO up to one month ahead. Our latest research builds on that gain in skill in predicting the coming winter, but also reveals, for the first time, modest but significant skill in predicting the phase of the NAO one year ahead. This is an exciting first step in developing useful winter climate predictions on longer timescales."

This discovery was made possible thanks to increased Met Office supercomputer capacity. This allowed the team to increase the resolution of the climate model and test the retrospective skill of its forecasts over the 35-year period from 1980 onward.
---
Plair CEO wins the international 2016 HMEI Award for best engineer
Dr Denis Kiselev, co-founder and CEO of Plair, a developer of surveillance stations for the continual monitoring and real-time identification of airborne particles, has received the Association of Hydro-Meteorological Equipment Industry's (HMEI) top recognition for engineers under the age of 35 who demonstrate outstanding work in the field. The HMEI award recognises Dr Kiselev's work in developing revolutionary technology for Plair's particle analysers, which improve air quality measurements in various fields.

"It is a great honour and privilege to receive this prize," said Dr Kiselev. "It means that our work and dedication to this company are highly appreciated by our customers and peers from the industry around the globe. This award proves the impact of our disruptive technology and innovative products for the field of hydro-meteorological and other environmental systems. I'm sure this award will help attract the best talent to our growing team."

Dr Kiselev was recognised at an award ceremony during the HMEI General Assembly on 28 September 2016, at the World Meteorological Organization (WMO) Technical Conference on Meteorological and Environmental Instruments and Methods of Observation (CIMO TECO) 2016, which was held on 27-30 September in Madrid, Spain, in conjunction with Meteorological Technology World Expo.
---
Mysterious blackouts affecting DTU Space satellites near equator attributed to wild space weather
Researchers have been puzzled by regular blackouts in the GPS navigation system on the European Swarm satellites, where DTU Space leads the international scientific cooperation. The blackouts occur in particular when the satellites pass the equator between Africa and South America, but the loss in signal has been now attributed to wild space weather.

The strange blackouts on the satellites have been explained by Swarm mission scientists who have identified a direct link between these GPS blackouts and ionospheric 'thunderstorms' that appear frequently in space in this area, which is some 300-600km above Earth.

"These ionospheric thunderstorms are well known, but it's only now we have been able to show a direct link between them and the loss of the GPS. This is possible because the Swarm satellites provide high-resolution observations of both phenomena at one spacecraft," said Professor Claudia Stolle a Swarm project scientist from GeoForschungsZentrum (GFZ) Potsdam in Germany. "These storms would typically occur for one or two hours between sunset and midnight, and cause loss of the GPS signal from the satellites for some minutes."

Swarm is a constellation of three identical satellites launched by the European Space Agency (ESA) to track and study the Earth's magnetic field. The satellites were launched in 2013. Two of them – Alpha and Charlie – fly in tandem at about 450km from Earth and descend over time. The third, Bravo, is in orbit 500km from Earth and drifts slightly away from the other two in its orbital plane.
---
September 2016
NOAA awards first commercial weather data contracts
The National Oceanic and Atmospheric Administration (NOAA) has awarded its first-ever satellite data contracts to the private industry as part of the US$3m Commercial Weather Data Pilot (CWDP) program that was created by the US Congress in 2015.

Spire Global, a provider of satellite-based maritime and weather tracking data, and commercial environmental data company GeoOptics, won the first two awards under the pilot program. Both companies will provide global navigation satellite system (GNSS) radio occultation data to NOAA for evaluation to determine whether commercial data can be incorporated into NOAA's numerical weather models.

The Commercial Weather Data Pilot program required NOAA to enter into at least one pilot project through an open competitive process to purchase, evaluate and calibrate commercial weather data. Spire Global and GeoOptics will provide GNSS data to NOAA by April 30, 2017, to demonstrate the potential value the companies' data could provide to NOAA's forecasts.

The data will be assessed throughout 2017 and a final report issued in early 2018. The contract amounted to US$370,000 for Spire and US$695,000 for GeoOptics.

The pilot projects will help determine whether the commercial data is accurate, reliable and verifiable. If successful, these types of contracts may mark the start of a new era in which private companies are given incentives to launch weather satellites and sell their data to the government.
---
UK Met Office upgrades its OpenRunway product
The UK Met Office has launched an enhanced and upgraded version of its OpenRunway product to help airports and airlines operate as safely and efficiently as possible with the most accurate forecast information. New features include a mobile and tablet-friendly interface, improved mapping and weather layer information, and 24-hour forecast information.

OpenRunway is the Met Office's online weather forecasting package. It helps airports and airline operators make confident weather-sensitive decisions, which in turn helps flights run to schedule and ensures the safety of passengers.

As well as advising when runways require treatment due to weather conditions breaching thresholds set by the user, OpenRunway advises when runways can stay open during marginal weather situations, helping to save costs and minimize disruption to passengers, airlines and airports. OpenRunway alerts those who need to know the current and forthcoming weather conditions at an airport up to 10 days in advance.

The enhanced version of the product takes the core aspects of the previous product and service that proved beneficial for customers – including a clear 24-hour overview, TAF and METAR access, and customizable red, amber and green (RAG) thresholds – and refreshes them to meet new and evolving market demand.

Ian Cameron, executive head of aviation, Met Office, commented, "Our OpenRunway product has proved to be an indispensable tool for airlines and airports alike, helping them plan in advance to mitigate the risks and potential disruption that the weather can cause. We always work closely with our customers and listen to their feedback on our products, and this has allowed us to enhance the product even further to meet the evolving needs of the aviation industry and provide a service that caters exactly to their needs."
---
ECMWF commits to pushing the limits of predictability in 2025

The European Centre for Medium-Range Weather Forecasts (ECMWF) has announced that it is committing to extending the probabilistic skill of its high-impact weather forecasts by three to six days over the next decade.

The ECMWF aims, by 2025, to be able to predict high-impact weather events – such as the windstorm Tor that hit northwestern Europe in January 2016 – an average of 10 days ahead of the event, and up to two weeks in advance.

Similarly, larger-scale pattern events, such as the heatwave that affected Europe in July/August 2015, will be predictable an average of three weeks ahead of the event, and up to four weeks in advance in certain cases.

The advances will be achieved by pushing the boundaries of research and computing to improve ECMWF's description of the initial state of the forecast and the representation of the physical processes governing Earth's fluid envelope.

Key to the strategy's success will be continued international research and computing cooperation.

The ECMWF will also continue its work on a new coupled data assimilation system to ensure the generation of a consistent Earth system state to initialize forecasts across all timescales. ECMWF's new strategic objectives include: increasing the horizontal resolution of the global 'ensemble' forecasting system to 5km, more than three times the existing resolution; developing an improved, high-resolution Earth system model to better take into account the complex interactions between the atmosphere, the ocean, sea ice and land, as well as aerosols and ozone; and implementing a scalable approach to coding across numerical weather prediction (NWP) processes to meet future computing power and big data challenges.

ECMWF director general Florence Rabier said, "Given the greater likelihood of life-threatening climate change impacts on the Earth's weather, we will harness rapidly advancing data availability and technology to stretch the accuracy and range of predictions further and faster."
---
Japanese government to assist Pakistan in replacing weather radars
The government of Japan has announced that it will assist the Pakistan Meteorological Department (PMD) in installing the latest weather radar technology in the cities of Islamabad and Karachi at a cost of Rs2.5bn (US$24m) and Rs1.6bn respectively (US$15.3m). Work on the installations has already begun.

PMD is also installing new radar solutions in the region of Kalpani Nullah near the city of Mardan, which is regularly affected by flash flooding. PMD hopes that these new solutions will be operational in early 2017.

PMD has already installed seven new radars throughout Pakistan to support early warning systems for flooding. These radars are operational, but the government of Pakistan has expressed concern that they are based on old technology and said that more modern solutions are required. The government of Japan will therefore assist Pakistan in installing new radars and modernizing existing ones; the modernization program will include the installation of new radars at 18 locations throughout the country.
---
Nepal's DoHM to upgrade weather forecasting system
Nepal's Department of Hydrology and Meteorology has announced that it plans to develop a new radiosonde station at the Tribhuvan University in Kirtipur, Kathmandu. The aim is to upgrade current short-range weather forecasting and make weather prediction more reliable. The Department of Hydrology and Meteorology has said that the new radiosonde station will come into operation by April 2017, and will include a hydrogen generator and radiosonde balloons to obtain atmospheric data from the upper air.

The department has worked closely with the Tribhuvan University to decide on the setup of the new station, which will be developed on the premises of the university's Atmospheric Research Laboratory. The department plans to fly the balloons twice a day, once in the morning and then again in the evening.

Once the station becomes operational, Nepal will have access to data that will make weather forecasting more accurate. Currently, the country relies on a 24-hour short-range forecasting system that only provides 75% accuracy.
---
August 2016
US Air Force launches next GSSAP spacecraft
The US Air Force launched the third and fourth Orbital ATK-built Geosynchronous Space Situational Awareness Program (GSSAP) satellites aboard a United Launch Alliance Delta IV launch vehicle on 19 August 2016. The mission, called AFSPC-6, delivered two GSSAP satellites into orbit to advance the space situational awareness (SSA) mission.


Two GSSAP satellites are already on-orbit and meeting all mission requirements. The GSSAP satellites provide improved GEO-based space situational awareness that will enhance the ability of the Joint Functional Component Command for Space (JFCC-Space) to provide enhanced space flight safety and better understand the ever-evolving state of affairs in the GEO (geosynchronous equatorial orbit) belt.


"The first two GSSAP satellites have performed remarkably well," said Lt Gen Samuel Greaves, SMC commander and Air Force programme executive officer for space. "These next two satellites will add to that capability and enable us to understand more completely things that occur in the geosynchronous orbit to a very high quality. It's a key piece in the puzzle for space situational awareness."


Operated by Air Force Space Command, the GSSAP system provides precise data seven days a week, 24 hours a day. The satellites will join a GSSAP constellation supporting US Strategic Command space surveillance operations as a dedicated Space Surveillance Network sensor.


The GSSAP also supports JFCC-Space by collecting SSA data, allowing for more accurate tracking and characterisation of man-made orbiting objects.
---
Supercomputer to help better predict flood events across the USA
The National Oceanographic and Atmospheric Administration (NOAA) has announced that it will use a supercomputer to better forecast flood events across all of the USA's waterways. The news comes after the state of Louisiana experienced heavy rains leading to flooding, which caused more than 10 deaths and forced more than 20,000 people from their homes.

NOAA forecasters will use a new supercomputer tool to gain information on heavy rain events that could lead to potentially life- and property-threatening flooding. The data will enable NOAA to provide street-by-street information on flooding, which will give people more time to get out of harm's way if needed.

"It's NOAA's first foray into high-performance computing for water and marine weather prediction. It's going to provide information in all kinds of areas where we have none today. It's a quantum leap forward," Thomas Graziano, director of NOAA's Office of Water Prediction, told Bloomberg.

NOAA said in a statement that the new computer model will draw data from more than 8,000 US Geological Survey sites to simulate 2.7 million locations in the 48 contiguous states, generating hourly river and stream forecasts. Earlier computer models only used 4,000 sites every few hours.
---
MeteoGroup replaces UK Met Office as BBC's weather forecaster

The British Broadcasting Corporation (BBC) has awarded the contract for the provision of its weather services to MeteoGroup from spring 2017 following a regulated procurement process. The UK Met Office will be replaced by the private weather company after 94 years' service as the BBC's weather forecaster.

MeteoGroup will provide high-quality forecasting and state-of-the-art graphics solutions for worldwide weather services on all BBC platforms, including TV, radio, web and mobile. MeteoGroup is a leading commercial weather company, headquartered in the UK, which has offices in 16 countries and employs 450 staff. Founded in 1986, MeteoGroup has 30 years' experience delivering weather solutions to the media and other weather-critical markets worldwide.

Richard Sadler, MeteoGroup chairman, said, "MeteoGroup is honoured to have been chosen to partner with the world's leading broadcaster. The BBC is dedicated to offering the best possible weather service to its audience and it has been a demanding selection process. I am delighted that MeteoGroup has emerged from this process as the successful bidder based on rigorous award criteria, including our forecasting and the quality of our visuals."
---
CGS to supply microwave imager instrument
Italian space systems provider CGS has announced that, in collaboration with Airbus Defence and Space, it has signed a €166m (US$187m) contract for the realisation of a microwave imager (MWI) instrument for the MetOp Second Generation (SG) weather satellites.

MetOp-SG is a series of six meteorological satellites developed by the European Space Agency (ESA) and EUMetSat that are to be deployed from 2021.

The MWI is a sophisticated instrument that will be installed on board the Satellite B series and will provide Europe's national meteorological services with high-quality data for meteorological and climate monitoring. CGS is responsible for the design and development of the MWI instrument.

"With the responsibility for this important instrument for these satellites, CGS confirms its role as an expert for sophisticated space systems," said Roberto Aceti, managing director of CGS. "We are delighted to contribute to the success of the MetOp-Second Generation project. The scientific information that will be provided by the microwave imager with extremely high radiometric accuracy will lead to an outstanding improvement of weather forecasts and a better understanding of climate changes."
---
New sensor network to be launched for early warning systems
At Meteorological Technology World Expo 2016, Smarty Planet, a provider of intelligent wireless sensor network (WSN) solutions, will showcase an innovative sensor network aimed at early warning systems for natural hazards.

The solution has been developed to help predict flooding, avalanches, landslides and water pollution. Smarty Planet is currently seeking distributors and business partners in different countries to implement its technology.

The company's solutions use a unique combination of cloud software, hardware and autonomous global network connectivity (using satellite, GSM and radio) to provide a complete service for natural hazard management. They are designed for the remote monitoring of environmental parameters and can operate in hostile environments. They offer low power consumption through the use of solar power and they are, the company says, reliable, cost-effective, easy to deploy and intuitive to use.

The Smarty River solution is one example from the company's range of solutions. It is a decision support system that enables real-time recording, display, data sharing and management of alarm data for rivers, reservoirs, rainfall and snow. By using this solution, risks can be detected early enough to alert people in areas of flood risk if a natural hazard is about to occur.
---
July 2016
Sentinel-3A satellite ready for action
Getting the bigger picture on the health of the planet drew another step closer in mid-July as Europe's Sentinel-3A satellite was handed over to the European Organisation for the Exploitation of Meteorological Satellites (Eumetsat) for operations. Sentinel-3A, a European environmental study satellite, which was launched on February 16, has undergone a series of in-orbit tests over the past five months to fine-tune its instruments. The satellite is now ready to systematically map Earth's surface.


The satellite maps both land and water to determine surface temperature and patterns of changing vegetation, to map human population by monitoring urban heat islands, and to track wildfires.


ESA's Bruno Berruti has been responsible for taking Sentinel-3A from the drawing board and into orbit ready for service. He said, "As the last phase of the project, the handover signals the end to an intense five months during which we ensured the satellite and instruments are all working well so that they can start delivering routine data."


The satellite mission is a joint project between Eumetsat, the European Space Agency (ESA) and the European Union. Both the ESA and Eumetsat have access to the satellite's sensors. The former will focus on the land data, and the latter on the marine data. The satellite's health is monitored by the ESA. The data gathered by the satellite has been rigorously tested to ensure it provides accurate information.


Hilary Wilson, Eumetsat's Sentinel-3 project manager, said, "After this intense five-month period we are looking forward to taking over the routine operations of the satellite from ESA and moving into what will hopefully be more than a decade of smooth operations bringing this important data to users worldwide."
---
Mobile app launched with 84% weather prediction accuracy
A mobile app in six sub-Saharan African countries is helping farmers to better predict the optimum time to sow, fertilize and harvest crops.

The mobile app, created by Sweden-based Ignitia, is being used in the Ivory Coast, Ghana, Mali, Niger, Nigeria and Senegal to improve crop yields and optimize food production. It uses a weather forecasting model that produces GPS-specific forecasts. The company says the app provides a weather prediction accuracy rate of 84%.

The development was awarded a US$5,000 prize after it placed second at the United States Agency for International Development (USAID) and partners' first Agricultural Innovation Investment Summit in the USA in June.

gnitia now wants to expand into other West Africa countries using a US$2.5m grant from the Securing Water for Food challenge, which is funded by the governments of the USA, Sweden, South Africa and the Netherlands.
---
Flooding prediction tool set to reduce the impact of major floods in the USA

A new tool has been developed by a University of Texas professor in the USA to help predict when and where major floods will occur in the country. The National Water Model tool uses weather, river and geological data to provide the predictions.

Professor David Maidment, the originator of the development, came up with the idea for the tool as part of the National Flood Interoperability Experiment, a collaborative effort between the academic community, the US National Weather Service, the US government, and commercial partners.

The tool uses a powerful supercomputer at the Texas Advanced Computing Center (TACC) at The University of Texas at Austin to collect the nationwide data and process it. The computer can calculate the flow in all of the rivers and streams in the USA in 10 minutes.
---
China to launch 14 meteorological satellites by 2025
China is set to launch 14 meteorological satellites into orbit over the next decade, a senior Chinese official has said.

China plans to launch one Fengyun-II satellite, four Fengyun-III satellites, three Fengyun-IV satellites and six other satellites with multiple meteorological purposes by 2025.

Fengyun satellites are remote-sensing meteorological satellites developed by China. Since 1988, the county has launched 14 Fengyun satellites; seven of these are still in the orbit as part of the World Meteorological Organization network.
---
Kochi gets hi-tech weather forecasting Doppler radar
The Indian Meteorological Department (IMD) has confirmed that a Doppler radar using a Chinese-made S-band radar will be set up in the city of Kochi in southwest India within three months. IMD secretary Dr Rajeevan said that a C-band radar set up at Thiruvananthapuram, south of Kochi, by the Indian Space and Research Organisation (ISRO), has already started functioning.

Signals from the new radar will help to predict weather events, such as cyclones, heavy rainfall and floods, that begin in the Arabian Sea, and which are likely to hit the state of Kerala's western shores. The radar will forecast weather conditions across a 200km radius.

It has also been decided by the IMD to set up a Doppler radar in Mangalore in the state of Karnataka in southwest India within a year. This would facilitate weather prediction in the northern districts of Kerala.
---
June 2016
Scientists install 3D printed weather stations in Zambia
Scientists have successfully installed the first wave of low-cost weather stations in Zambia. The systems are designed to provide critically needed information to farmers and other residents in developing countries. The stations are built largely with 3D-printed parts that can be easily replaced if they wear out in the field. They were created by weather experts at the National Center for Atmospheric Research (NCAR) and its managing entity, the University Corporation for Atmospheric Research (UCAR).


The first five stations, newly installed in Zambia, are beginning to transmit information about temperature, rainfall, winds and other weather parameters. These measurements and the resulting forecasts can provide weather information for local subsistence farmers deciding when to plant and fertilise crops. They can also alert communities about floods and other potential disasters.


"It's a major opportunity to provide weather information that farmers have never had before," said NCAR scientist Paul Kucera, one of the project leaders. "This can literally make the difference when it comes to being able to feed their families." The scientists will next explore the need for low-cost weather stations in other developing countries. The project is funded by the US Agency for International Development's Office of Foreign Disaster Assistance and the US National Weather Service.
---
WMO pledges support for cooperation on Asia-Oceania weather satellites
Representatives from Australia, China, India, Indonesia, Japan, the Republic of Korea, the Russian Federation and the WMO have signed a memorandum to continue with the Asia-Oceania Meteorological Satellite Users Conference (AOMSUC). The aim of the memorandum is to maximise the use of meteorological satellites for sustainable socio-economic development.
WMO secretary-general Petteri Taalas applauded the agreement and noted the invaluable contribution that satellites make to monitoring typhoons, rising sea levels and other phenomena. He also pledged the WMO's full support to the seven countries, which were all represented by their permanent representatives to the WMO.

The participating countries and the broader meteorological community have been meeting annually through the Asia-Oceania Meteorological Satellite Users Conferences to enhance the use of satellite data and products for better weather, climate and disaster mitigation services. The Asia-Oceania region is prone to extreme weather and other natural disasters, such as volcanic activity.

The new memorandum confirms that the conferences will be continued and will seek to encourage participation from all countries in the region. These annual events will foster cooperation among satellite operators and users in Asia-Oceania, and seek to improve the region's capacity for exploiting satellite data in a cost-effective, collaborative manner, building on and concentrating existing skills and infrastructure. They will also help coordinate related activities such as training and efficient data distribution, including in developing and least-developed countries.
---
Scientists to use underwater robots to study India's monsoon season

Scientists from the UK and India will release underwater robots into the Bay of Bengal in the Indian Ocean in a bid to more accurately predict the Indian monsoon season.

Scientists from the University of East Anglia in the UK and from India plan to launch seven underwater torpedo-shaped robots into the bay to measure temperature, salinity and currents. The robots are equipped with onboard intelligent computers and will spend a month moving through a southern section of the bay. The robots will be launched from an Indian research ship across a 400km stretch of water.

The £8m (US$12m) project is supported by India's Ministry of Earth Sciences, the UK's Natural Environment Research Council, the UK Newton Fund and the UK Met Office, and aims to provide a clearer view of how ocean conditions affect rainfall activities during monsoon season.

Alongside this project, scientists from the University of Reading in the UK and the Indian Government will be flying a scientifically equipped aeroplane over the Bay of Bengal to record atmospheric pressure. The overall aim of the two projects is to better predict monsoon rainfall conditions, which is particularly important for Indian agricultural farmers.
---
India and China in talks to tackle drought conditions in western India
China has begun talks with the Indian Meteorological Department to help the drought-hit state of Maharashtra in western India with its cloud-seeding technology, which can help induce rain. The talks also covered the training of Maharashtra meteorological staff by Chinese experts.

Scientists from Beijing, Shanghai and the Anhui province began the talks during a visit to the Maharashtra region, said China Daily. The region has experienced severe droughts over the past two years. China began using cloud-seeding technology in 1958. If the talks are successful, Chinese experts will provide training to Indian officials on its use.

The aim of the project will be to induce rain over Maharashtra's Marathwada region during the summer of 2017.
---
Pakistan Meteorological Department to acquire modern weather radars
During a review meeting of the Pakistan Meteorological Department (PMD), the Pakistan Government agreed to acquire new quality weather radars to replace outdated technology that is becoming increasingly difficult to repair. The Government also stated that the PMD must share more comprehensive weather reports with Pakistan's provincial authorities.

The Pakistan Meteorological Department has been asked by the Government to submit a comprehensive report looking at the financial costs involved in acquiring the new radars. Currently, the main task of the department is to provide monsoon forecasting, but it will now work closely with the country's Federal Flood Commission and the National Disaster Management Authority to communicate in real time on all weather conditions. This information will also be better disseminated through the media to mitigate weather risks.

Participants in the review meeting were also informed that the Government is fully committed to providing all the needed resources to strengthen the Pakistan Meteorological Department through the provision of equipment, human resources and operational independence.
---
May 2016
NOAA unveils 4D supercomputer model of the world's weather
NOAA's powerful new supercomputers have paved the way for another upgrade to the US Global Forecast System (GFS), NOAA's primary model for weather prediction. The upgrade sees a shift to 4D ensemble hybrid data assimilation, which takes into account how weather systems evolve on a 3D spatial grid over time, with time now becoming the fourth dimension. This approach makes better use of Earth observations used to initialise the model, which gives forecasters a more accurate and timely picture of evolving weather situations.


Louis Uccellini, director of NOAA's National Weather Service, said, "Current investments in more powerful supercomputers, advanced modelling capabilities and better Earth observing systems are creating more precision in the forecast process and strengthening America's resiliency to extreme weather, water and climate events."


The GFS upgrade is the latest in a number of model improvements rolling out this year, thanks to increased supercomputing power NOAA acquired earlier this year. "America's need for weather, climate and water information and prediction are growing, and we're advancing our capabilities to meet current and future demand," Uccellini added.
---
New industry partnership formed to improve prediction technology for utilities
Schneider Electric, a global specialist in energy management, has announced an exclusive long-term partnership with the University of Connecticut (UConn) and Eversource Energy to combine the companies' storm outage prediction technology to create a single, more precise and accurate model.
UConn's unique analytics model will be integrated into Schneider's WeatherSentry Online (WSO) platform, enabling utilities to better understand the expected impacts of storms on their utility infrastructure and to make smarter decisions in preparing for storms, to minimise restoration time, cost and impacts on customers.

Jon Reifschneider, vice president of weather at Schneider Electric, described the collaboration as unique because of the groundbreaking technology involved. "This project will also allow us to commercialise our comprehensive weather decision-support platform, taking it to new heights and fulfilling our commitment to provide innovative solutions for utilities to optimise their operations and better serve their customers," he said.
---
Unreliable measurements confuse researchers

One of the US Air Force's two primary weather satellites has been providing researchers with unreliable sea ice measurements for more than a month, according to the civilian-run National Snow & Ice Data Center.

The Boulder, Colorado-based research centre, which is funded by NASA, NOAA and the National Science Foundation, has not updated its index of arctic-wide changes in sea ice since the passive microwave sensor on board the Air Force's 10-year-old Defense Meteorological Satellite Program-17 (DMSP-17) satellite began returning "spurious" data in early April.

The Air Force told SpaceNews that it is keeping an eye on one of DMSP-17's sensors, but did not say which one had been flagged for monitoring. The National Snow & Ice Data Center has announced that it has temporarily suspended its daily sea ice updates, and identified the sensor as the Special Sensor Microwave Imager and Sounder (SSMIS).

Jennifer Thibault, a spokeswoman for the 50th Space Wing at Schriever Air Force Base in Colorado Springs, said that other resources, including the Air Force's DMSP-18 satellite, are available to generate sea ice, water vapour and wind speed models for the Navy and other users.
---
e2v selected to develop CMOS devices for new weather satellites

UK-based imaging sensor maker e2v has won a major contract with Airbus Defence and Space (Airbus DS) to design, develop and supply bespoke complementary metal oxide semiconductor (CMOS) image sensors for the advanced METimage radiometers that will be integrated into a series of three European Space Agency meteorological operational (MetOp) second-generation weather satellites.

The primary objective of the METimage instruments is to provide imagery in extended spectral ranges that enable new environmental measurements to be collected on the Earth's atmosphere. Critical information on cloud formation, sea-surface temperature and winds, air quality and temperature will enable scientists to improve the accuracy of meteorological and climate forecasting to protect life on Earth.

METimage will scan large image strips of Earth orthogonally to the flight direction with a ground resolution of 500m. Image quality will be reached through internal calibration, and data accuracy will be ensured by e2v's highly innovative, front-illuminated 4T pixel CMOS linear devices for use in the instruments' visible and near-infrared (VISNIR) focal plane, as well as by its readout electronics. The application demands a high signal-to-noise ratio in order to capture the precise brightness of the images in a particular wavelength; image scanning at regular intervals along Earth's curvature demands the large pixel design.

The satellites will be launched in 2021, 2028 and 2035 and will be operated by EUMETSAT.
---
Vaisala unveils next-generation weather radar software
Vaisala, a provider of environmental and industrial measurement systems, has released details of its new weather radar software. Vaisala IRIS Focus has been designed for use by professional meteorologists to help them gather more accurate precipitation estimates and classification. The software can also aid users in gathering earlier weather warnings.

IRIS Focus enables users to display up to four radar products on one screen, synchronize all four panels in time and location, and animate the panels together to easily see more data. Improved graphic displays and processing capabilities have also been integrated in the new software so that users can see data more clearly. IRIS Focus can be accessed via the web, which means users can view the software no matter where they are in the organization.

During the development of IRIS Focus, Vaisala worked closely with customers to understand how they use software in daily forecasting activities. The company incorporated the feedback to help streamline the functionality of the new weather radar software. IRIS Focus is simple to use with a clear interface and interactive user tutorials, helping to reduce operator training time.
---
Digital soil moisture measurement device launched
Delta-T Devices, a developer of instruments for environmental science, has launched a digital version of its analogue PR2 Profile Probe soil moisture measurement device. Named the PR2 SDI-12, it shares the same strengths as the analogue version (which remains in production), but with the addition of SDI-12 compatibility, allowing integration into new and existing SDI-12 systems. As with the analogue version, the digital version comes in two lengths to measure soil moisture profiles down to 40cm or 100cm.

By adopting the widely used SDI-12 interface, the PR2 SDI-12 can be integrated with an even wider range of dataloggers, sensors and equipment. SDI-12 is an established communication standard adopted by many manufacturers of environmental monitoring and control equipment. It is popular because it allows large numbers of sensors (from many vendors) to be connected to a logger via a simple cable network, thereby reducing the cost and complexity of wiring large sensor installations.

The PR2 SDI-12's electronics have been designed to improve power efficiency, an important advantage for off-grid applications such as remote sites.
---
April 2016
NASA's Solar Dynamics Observatory captures images of a mid-level solar flare
NASA's Solar Dynamics Observatory (SDO) has captured images of the sun emitting a mid-level solar flare on April 17, 2016, which caused moderate radio blackouts. The SDO watches the sun constantly to help understand the influence of the sun on the Earth and near-Earth space by studying the solar atmosphere on small scales of space and time.
Solar flares are powerful bursts of radiation. Harmful radiation from a flare cannot pass through the Earth's atmosphere to physically affect humans on the ground. However, when intense enough, they can disturb the atmosphere in the layer where GPS and communications signals travel.
The National Oceanic and Atmospheric Administration's (NOAA) Space Weather Prediction Center stated that "moderate radio blackouts were observed" during the peak of the flare. Such radio blackouts are only ongoing during the course of a flare, and so they have since subsided. NOAA's Space Weather Prediction Center is the US government's official source for space weather forecasts, watches, warnings and alerts.
The flare is classified as an M6.7 class flare. M-class flares are a tenth the size of the most intense flares, the X-class flares. The number provides more information about its strength. An M2 is twice as intense as an M1, an M3 is three times as intense, etc.
The flare came from an area of complex magnetic activity on the sun, known as an active region, and in this case labeled Active Region 2529, which has sported a large dark spot (sunspot), over the past several days. For much of that time, it was big enough to be visible from the ground without magnification and is currently large enough that almost five earths could fit inside. Scientists study such sunspots in order to better understand what causes them to sometimes erupt with solar flares.
---
NOAA pushes forward with commercial weather data pilot project
NOAA has submitted a report to the US Congress that outlines its plans to implement a pilot project to purchase commercial weather data and assess the viability of incorporating it into its numerical weather models. The report, Commercial Weather Data Pilot Program: Report to Congress, looks at how the pilot project will address some of the concerns NOAA has about the accuracy, verifiability and reliability of commercial data.
Congress allocated US$3m for the project in FY2016 and NOAA is now looking for US$5m for FY2017. NOAA has chosen radio occultation (RO) data as the focus of the pilot project and is set to issue a Request for Proposals for commercial data to vendors in 2016. The goal of using commercial sources is not just to reduce costs to the government, but also to increase the resiliency of weather satellite systems.
NOAA already collects RO data from its own satellites but the weather agency has never before collected it from commercial satellites. The pilot will act as a test for future commercial satellite efforts. Several companies, including PlanetiQ, GeoOptics and Spire, which already has an operational satellite with GPS radio occultation capabilities, have expressed interest in the pilot project.
---
Cray awarded contract to upgrade systems at Germany's national meteorological service
Global supercomputer company Cray has announced it has signed a contract to upgrade and expand the Cray XC supercomputers and Cray Sonexion storage systems at Germany's national meteorological service, the Deutscher Wetterdienst (DWD).
The upgraded Cray systems will allow DWD to continue to improve its highly complex models for providing more accurate weather forecasts for a wide array of weather responsibilities. With the significant increase in computer performance and storage capacity, the researchers and scientists at DWD will be able to apply more advanced supercomputing technologies toward its mission of meeting the meteorological requirements arising from all areas of economy and society in Germany.
Dr Jochen Dibbern, member of the executive board at DWD, said, "Our Cray supercomputers are critical tools for our researchers and scientists, and it's imperative that we equip our users with highly advanced supercomputing technologies."
In January 2013, Cray announced it was awarded a contract to provide DWD with two Cray XC30 supercomputers and two Cray Sonexion storage systems. Under the terms of this new contract, Cray will upgrade and expand the supercomputers at DWD to Cray XC40 systems, which will include the new Intel Xeon processor E5-2600 v4 product family.
---
Lufft introduces new visibility sensor and launches Marwis 2.0

Sensor manufacturer Lufft has revealed two new innovations that have been developed to gather more accurate and detailed weather information: the new VS2k-UMB visibility sensor will replace the VS20-UMB optical sensor from the middle of May 2016; and the Marwis mobile road sensor is being updated with a second generation.
In the traffic sector, Lufft's visibility sensor VS2k-UMB serves as equipment for road weather stations and traffic control systems. It measures accurate visibility values in a range of up to 2,000m. The new visibility sensor features enhanced product characteristics such as a highly optimized housing alloy that is seawater resistant and therefore suitable for offshore use. During numerous saltwater tests, the sensor showed stable longevity even under the most extreme conditions.
The new VS2k-UMB visibility sensor is the first product of an entire series that is currently being launched by Lufft. Another device version with a maximum range of 25km will be available by the middle of 2016.
The mobile road sensor Marwis measures additional environmental data. The new 2.0 version has been equipped with an external air temperature sensor. With the aid of the other measured variables, this allows the relative humidity to be determined. Until now, the road sensor could measure variables such as the road surface temperature, water film thickness, dew point or road conditions.
Directly attached to the vehicle, the smart sensor transmits the data 100 times per second via Bluetooth in real time to a tablet, smartphone or an alternative output device in the cab. By using a data cloud, Marwis can forward the app measurements to the control center, where operations managers can track the test runs using the View Mondo management software.
---
MIT study claims ancient tectonic activity was trigger for ice ages
Geologists at the Massachusetts Institute of Technology (MIT) in the USA have identified the likely cause of ice ages, as well as a natural mechanism for carbon sequestration. Prior to the past two ice ages (around 80 million years ago and 50 million years ago), massive tectonic collisions took place near the Earth's equator – a tropical zone where rocks undergo heavy weathering due to frequent rain and other environmental conditions. This weathering involves chemical reactions that absorb a large amount of carbon dioxide from the atmosphere. The new study suggests that the dramatic drawdown of carbon dioxide cooled the atmosphere and set the planet up for the two ice ages.
"Everybody agrees that on geological timescales over hundreds of millions of years, tectonics control the climate, but we didn't know how to connect this," said Oliver Jagoutz, associate professor of Earth, Atmospheric and Planetary Sciences (EAPS) at MIT. "I think we're the first ones to really link large-scale tectonic events to climate change."
Jagoutz and his colleagues, EAPS professor Leigh Royden and Francis Macdonald of Harvard University, have published their findings in the Proceedings of the National Academy of Sciences. The two tectonic collisions that the team studied stemmed from the same event: the slow northward migration of Gondwana, a supercontinent that spanned the Southern Hemisphere from 300 million to 180 million years ago and eventually broke up to form Antarctica, South America, Africa, India, and Australia.
For the study, the researchers examined whether tectonic collisions in extremely tropical regions played a part in pulling huge amounts of carbon dioxide out of the atmosphere and triggering the ice ages.
Image courtesy of Christine Daniloff/MIT
---
March 2016
Meteorological Technology World Expo 2016: just 20 exhibition spaces left!
Meteorological Technology World Expo 2016, which will be held in Madrid, Spain, on September 27-29, is less than six months away and exhibition space is selling out fast. There are now just 20 exhibitor spaces left, so if your organization develops devices or systems, designs software, or provides related services for the industry, make sure you don't miss out on being part of the largest meteorological trade fair in the world.
With more than 3,000 international buyers and end users from government, national agencies, public safety organizations and private companies attending, Meteorological Technology World Expo should be part of your plans for 2016.
---
SciCall for papers: TECO 2016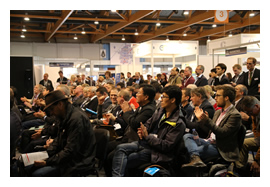 The World Meteorological Organization (WMO) has released its call for papers for the 2016 Technical Conference on Meteorological and Environmental Instruments and Methods of Observation (TECO 2016), which will be held at this year's Meteorological Technology World Expo in Madrid, Spain, on September 27-29.
The theme of this year's biennial event will be 'Ensuring sustained high-quality meteorological observations from sea, land and upper atmosphere in a changing world'. Instrument experts from national meteorological and hydrological services, research institutes and the private sector will take part to address some of the key trends and challenges in the industry.
For more information on the event and to read how to propose a paper, please click here.
---
NASA satellite creates its first global ocean map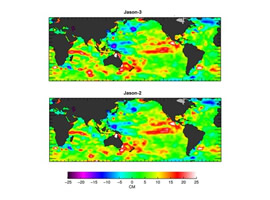 Jason-3, a new US-European oceanography satellite mission in collaboration with NASA, has produced its first complete map of global sea surface height, capturing the current influence of the 2015-2016 El Niño.
The map was generated from the first 10 days of data collected once Jason-3 reached its operational orbit of 830 miles (1,336km) in February 2016. Launched on January 17, 2016, from Vandenberg Air Force Base in California, USA, Jason-3 is operated by the National Oceanic and Atmospheric Administration (NOAA) in partnership with NASA, the French space agency Centre National d'Etudes Spatiales (CNES), and the European Organisation for the Exploitation of Meteorological Satellites (EUMETSAT).
Its three-year mission will continue a nearly quarter-century record of monitoring changes in global sea level. These measurements of ocean surface topography are used by scientists to help calculate the speed and direction of ocean surface currents and to gauge the distribution of solar energy stored in the oceans.
---
New MS-80 secondary standard pyranometer unveiled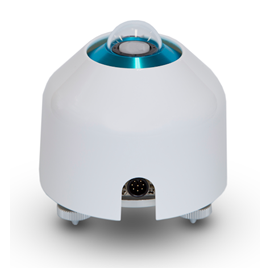 EKO Instruments has unveiled a new pyranometer, the MS-80, which is a secondary standard pyranometer with an innovative design that has enabled a breakthrough in unprecedented low offset behavior and fast thermopile sensor response.
The MS-80 is a unique combination of EKO's isolated detector architecture and novel optical design. According to the company, it pushes the limits of traditional pyranometer characteristics to become a new reference in its class. The compact sensor with single dome is immune to offsets and easily integrates all added features such as a ventilator, heater and different communication interfaces, including Modbus RTU and 4-20 mA.
Providing the lowest measurement uncertainties under all atmospheric conditions, the MS-80 is made for long-term unattended operation. It comes with a five-year warranty and has a five-year recommended recalibration interval.
---
NOAA tests two new weather models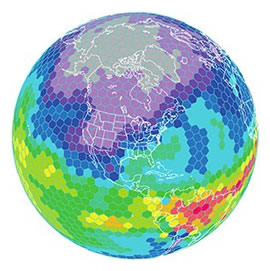 The National Oceanic and Atmospheric Administration (NOAA) is testing two new experimental global forecast models and will make a decision over the next few months as to which one it feels best fits the needs of the meteorology community in the USA.
NOAA decided to look at the new models after Hurricane Sandy in 2012, when the European forecast model dramatically outperformed the US model (GFS) in predicting Sandy's course.
Since Hurricane Sandy, GFS has undergone some upgrades, but is still lacking in a few areas. NOAA is now testing two new experimental global models to find out which one best fits the needs of the US meteorology community.
The MPAS (Model for Prediction Across Scales) was developed at the National Center for Atmospheric Research (NCAR) in Colorado, USA, and uses a grid of hexagons instead of traditional cubes to map out the globe. This new technique allows for very high resolution of weather features. The other model being tested is the FV3 and was developed by NOAA; this model uses a 'cubed-sphere' grid pattern that is similar to a traditional grid pattern.
---
World Meteorological Organization issues report on the status of the global climate in 2015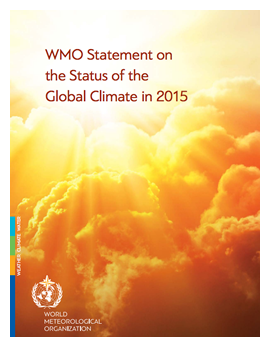 The World Meteorological Organization (WMO) has issued a report on the status of the global climate in 2015, which states that the year was the hottest, driest and wettest ever. The period 2011–2015 was the hottest on record, as was the year 2015 – with an extra boost provided by a powerful El Niño. The record-breaking trend has continued in 2016.
According to the WMO, rising temperatures only tell part of the story. Climate change is increasing the frequency and intensity of extreme events like heat waves, droughts and heavy rainfall, which provide a foretaste of the future.
"The tools to face the future and limit the worst impacts of climate change already exist. The WMO and national meteorological and hydrological societies are playing an essential role in building climate-resilient societies. Because of past and present emissions, we must prepare for a future with more hot days, warm nights and heat waves. This will affect public health and put a strain on societies. But health risks related to heat can be reduced through multi-hazard early warning systems that provide timely alerts to decision makers, health services and the general public," said WMO secretary general Petteri Taalas.
According to Taalas, integrated drought management is needed to deal more proactively with droughts and provide decision makers with guidance on effective policies and land management strategies. "We also need to improve access to scientific knowledge and share best practices for coping with drought," Taalas added.
To celebrate World Meteorological Day on March 23, 2016, the WMO launched a new, more user-friendly public website, more effectively showcasing its activities on weather, climate and water.
---
February 2016
New X-band radar predicts rainfall with greater precision
A new X-band radar system in San Jose, California, has been developed to provide accurate and localized weather predictions for the Bay Area. The radar system estimates rainfall in individual communities rather than providing a more general forecast for the area.
Discrete patches of incoming moisture are detected by a humming X-band radar unit, located on the rooftop of a treatment plant owned by the Santa Clara Valley Water District. The unit predicts precipitation and flood risk with much greater accuracy than current technology. Four more units will be phased in over the next five years for the Peninsula, East Bay and North Bay areas.
"It will offer more detailed information on when, where and what the intensity is going to be," said Carl Morrison, director of the Bay Area Flood Protection Agencies Association (BAFPAA), of the US$19m radar project, which is funded by a 2006 statewide bond measure.
Data from the new system — called the Advanced Quantitative Precipitation Information System (AQPI System) — won't be immediately made public but will be shared with governments and businesses.
The five X-band radars — one on top of the treatment plant and others planned for the flanks of Mount Hamilton, Montara Mountain, Rocky Ridge in San Ramon and Sonoma Mountain — have a limited view of only 25 miles.
"The new radars are positioned much closer to the ground and update data more quickly — they take 1 minute compared with 5 to 6 minutes of the previous technology – and so they are a more accurate tool for estimating local rainfall," said Rob Cifelli of the National Oceanic and Atmospheric Administration's (NOAA) Earth System Research Laboratory in Boulder, Colorado. Cifelli is managing the project in collaboration with Colorado State University scientists.
A new C-band radar is also planned on the coast of Sonoma County at Bodega Bay, which will fill a forecasting gap by providing a longer lead time for North Bay storms.
---
Scientists launch research campaign to enable better El Niño forecasts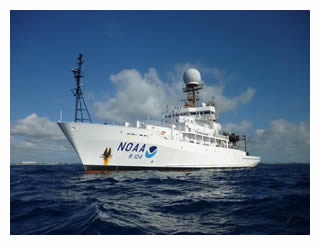 Scientists at the National Oceanic and Atmospheric Administration (NOAA) have begun deploying weather balloons with attached sensors and radios in the Pacific Ocean as part of a new effort to better understand the effects of the El Niño weather phenomenon.
The helium-filled balloons, launched from the NOAA research ship Ronald H Brown, carry sensors and radio transmitters that collect data over the Pacific Ocean's tropical waters where El Niño originates. Researchers are scheduled to launch the balloons up to eight times a day from the ship as it sails from Hawaii for a planned arrival in San Diego, California, on March 18, 2016.
NOAA scientists say the timing is perfect to study this year's abnormally strong El Niño conditions. The last two strongest El Niños — in 1982 and 1998— brought extensive rainfall to California, causing landslides and flooding. It is hoped this effort will lead to more accurate reporting and better forecasting on what El Niño means for California's current drought as well as providing information on how the US state may be impacted by future El Niño-generated storms.
"When the next big El Niño comes along and people say, 'Should I buy a ski pass for Northern California or should I bail and buy my ski pass for Utah?', we would like to be able to answer that question a little better. Right now, we wouldn't have a good answer for that," said NOAA physicist Christopher Fairall, who is involved in the research effort.
---
US Air Force plans three new weather satellites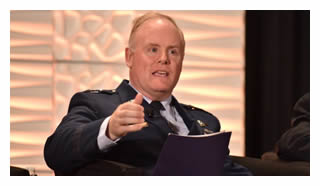 US Air Force (USAF) officials have announced plans to launch its next-generation weather satellite program as early as 2017. The program will include at least three new satellites.
However, it is unclear if the new plan will appease lawmakers, who have been critical of the Air Force's previous direction for weather satellites. Congress has been unhappy about the service's handling of the legacy program, known as the Defense Meteorological Satellite Program (DMSP), and the planned next-generation program, known as the Weather Satellite Follow-on.
Last year, lawmakers at Congress canceled the launch of the last DMSP satellite, DMSP-20, after the Air Force spent US$518m on the satellite but failed to convince Congress it was needed. Lawmakers were also skeptical of the plan for the Weather Satellite Follow-on program and whether it would close some of the Air Force's highest priority data gaps.
The White House's budget request for fiscal year 2017, which asks for US$119m for development efforts next year and US$522m through 2021, provides greater detail on how the Air Force plans to move forward.
The first satellite, previously referred to as a gapfiller and now described as a "technical demonstration" satellite, is known as the Compact Ocean Wind Vector Radiometer (COWVR). It is to be built in conjunction with the Air Force's Operationally Responsive Space Office (ORS) and could launch as early as 2017 aboard a small rocket, USAF officials said. The US Air Force expects the ORS to award a launch contract for the COVWR mission later this year, according to the White House budget documents.
---
Milestone reached in Met Office supercomputer build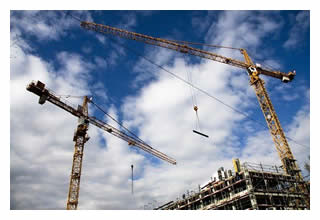 Construction of the Met Office's supercomputer complex at Exeter Science Park in the UK has reached a key milestone. Built by Willmott Dixon, the complex will house part of the new Met Office supercomputer as part of its High Performance Computing (HPC) project.
A topping out ceremony has now been held to mark the stage in construction where the building reaches its highest point. Met Office chief executive, Rob Varley, said, "This marks another important milestone in our supercomputer project. The first phase of which has been operational since last autumn, and was delivered on budget and five weeks ahead of schedule.
"This new complex will enable scientists from around the UK and the world to collaborate in assessing specific regional impacts of climate change, such as storms, droughts and heatwaves, and to help countries becomes more resilient to high impact weather and other environmental risks."
---
Sommer launches next-gen hydrology and meteorology data loggers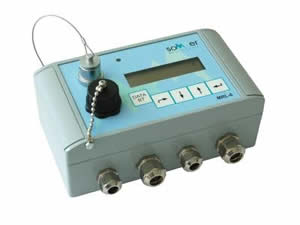 Sensor and environmental monitoring equipment specialist, Sommer, has launched a new, low priced data logger for collecting, processing and storing various measurement data. The MRL-6 data logger is reliable and energy-saving in extreme environments. Due to its waterproof housing, it is most suitable for data recording in the fields of environmental measurement technology and in remote areas without any infrastructure.
Advantages of the new MRL-6 include: it is reliable and energy-saving, and optimized to collect monitoring data at remote measurement stations with no power supply; it can be operated fully independently (with internal batteries or integrated solar charge regulator), and no equipment cabinet is required due to its IP 67 rating; and it offers straightforward integration and compatibility with the complete Sommer sensor family, as well as third party sensors.
The MRL-6 has SDI, Modbus, RS 485 and analogue interface capabilities; a backlit display for easy handling (up to -20 °C); a data readout with USB flash drive, Bluetooth-interface or RS-232; a minimum energy demand; and solid, compact and weatherproof aluminium housing.
---
Met office starts special weather forecast for Indian skiing championship
Ahead of the Auli Winter Skiing Carnival and National Skiing Championship in India, the Meteorological Centre of Uttarakhand has carried out a special weather forecast to update skiers and officials about the possible weather conditions at Auli, in the Chamoli district of Uttarakhand.
The annual event was scheduled to commence on February 12, 2016, but was postponed to February 20 due to a lack of snow on the slopes.
Bikram Singh, director, Meteorological Centre of Uttarakhand, told The Times of India: "We have started a special forecast for the winter carnival on the request of managing director of Garhwal Mandal Vikas Nigam (GMVN). We are giving them daily weather forecasts for Auli along with possible warnings and predictions for expected snowfall in centimeters."
---
January 2016
WMO welcomes Petteri Taalas as new Secretary-General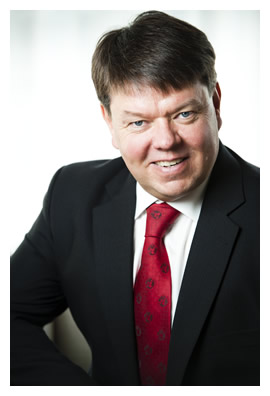 The World Meteorological Organization (WMO) welcomes its new Secretary-General, Petteri Taalas, who will head for the next four years the specialized agency that is the United Nations' authoritative voice on weather, climate and water.
Taalas, who was previously Director-General of the Finnish Meteorological Institute, succeeds Michel Jarraud, who completed three terms of office on December 31, 2015.
"Weather, climate, water and related environmental conditions have a major impact on our global society and economy," said Taalas. "WMO Members have to be better prepared for extreme weather events and to adapt to the changing climate, and National Meteorological and Hydrological Services will be pivotal to these efforts." "I look forward to leading WMO in an era when attention is focused on how to implement the ambitious Paris Agreement on climate change and cut emissions of greenhouse gases. The scientific and meteorological community will continue to work to strengthen the knowledge and services that will underpin climate-smart decision-making and effective and practical action."
"My objective as Secretary-General will be to develop WMO activities so that they give even greater support to National Meteorological and Hydrological Services, which are now working in an increasingly challenging operating environment," said Mr Taalas.
---
NOAA supercomputer helps predict dangerous weather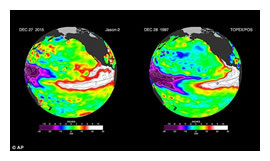 A new supercomputer designed to provide earlier and more accurate weather warnings went online at the National Oceanic and Atmospheric Administration's (NOAA) Center for Weather and Climate Prediction in College Park, Maryland, USA.
The US Senator for Maryland, Barbara Mikulski (D-MD), was on hand for the ceremony and to see how the new computer will help save lives and property. As the vice chairwoman of the Senate Committee on Appropriations, she worked to secure the US$35m in federal funding for the new electronics. The computer is expected to improve river and stream, derecho and hurricane forecasts. The information should help emergency managers and the public prepare for impending and potentially dangerous weather.
The Consolidated Appropriations Act of 2016 includes US$5.76bn for NOAA, the highest funding level ever for the federal agency, and an increase of more than US$300m over the fiscal year 2015 enacted level for the agency to carry out its mission across the country.
---
NRG Systems and Leosphere win large lidar contract for New York State's pioneering Mesonet weather network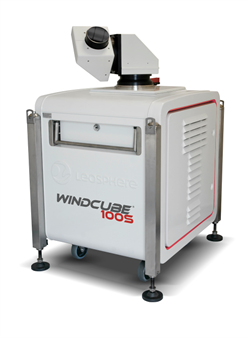 NRG Systems stated on January 6, 2016, that it had secured a contract with the State of New York for the supply of up to 17 Windcube 100S 3D scanning doppler lidars for the New York State Mesonet, an advanced weather network dedicated to improving the detection and prediction of severe weather events.
The lidar units will be integrated into enhanced weather stations dispersed throughout the state, and will provide real-time observations to the National Weather Service (NWS) for nowcasting and ingestion into their high resolution numerical weather prediction models. Data will also be provided to New York State Department of Homeland Security and Emergency Services (NYS DHSES) enabling better short-term forecasting and emergency management decisions.
The contract, administered by the University at Albany-SUNY (State University of New York), will see the addition of up to 17 Windcube 100S 3D scanning doppler lidars to the network, a best in class atmospheric remote sensing technology that will help make the New York State Mesonet the most advanced permanent weather network of its type in the world.
"With climate change comes more extreme weather, which requires more advanced meteorological instruments to predict severe weather events. This is an exciting project for the meteorology field as a whole because it will provide critical decision support to the State of New York in limiting the effects of severe weather events," said Gregory Erdmann, VP global sales, NRG Systems.
"The data produced by this system will allow the state to make critical decisions that will save lives and mitigate economic losses from severe weather events. The industry is watching this project closely."
---
Success in West Africa for farmers
The World Meteorological Organization (WMO) is evaluating the success of a four-year project to improve the provision and use of meteorological information and tools for farmers in West Africa where agriculture and food security is heavily dependent on the weather.
The MetAgri Operational Project involved National Meteorological and Hydrological Services (NMHS) and farmers and agricultural extension workers in 17 West African countries. Between 2012 and 2015, there were a total of 260 roving seminars with over 10,600 farmers. Over 4,500 rain gauges were given to farmers to teach them basic weather principles and to start to develop a supplemental observation network.
In addition, several NMHSs reported successful partnerships and collaborations with local non-governmental organizations, government ministries and local farmer's groups. These partnerships helped increase the visibility of meteorological services and led to increased requests for climate services.
The project was funded by the government of Norway through WMO with the work being done by the National Meteorological Services of Benin, Burkina Faso, Cape Verde, Chad, Cote d'Ivoire, Gambia, Ghana, Guinea, Guinea-Bissau, Liberia, Mauritania, Mali, Niger, Nigeria, Sierra Leone, Senegal and Togo. A new project proposal will be presented to the Conference of Directors of West African NMHSs in early 2016.
---
Panasonic Weather Solutions introduces the world's most advanced global weather forecasting platform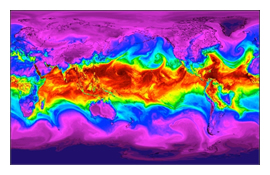 Panasonic is pleased to announce that Panasonic Weather Solutions is now operating the world's most advanced global weather forecasting platform, Panasonic Global 4D Weather. This innovative weather prediction capability, including an industry-leading global weather model, takes full advantage of Panasonic's exclusive atmospheric datasets, which include the continuous feed of detailed tropospheric data in four-dimensions (longitude, latitude, altitude and time). It also employs cutting-edge data quality control and data assimilation.
Panasonic Weather Solutions is the only private entity in the world with a custom-developed, end-to-end global weather-modelling platform. "Inaccurate weather forecasts cost the global economy hundreds of billions of dollars annually," said Don DeBlasio, executive director, Panasonic Weather Solutions. "With Panasonic's Global 4D Weather forecasting suite, we strive to improve our partners' operations within governments and weather-sensitive industries such as aviation, shipping, maritime, renewable and exploratory energy markets, and commodity trading."
The technical details for Panasonic's Global 4D Weather platform are: a Panasonic-enhanced hybrid 4D-ensemble-var global forecast system; 13km horizontal resolution and 64 vertical levels; four forecast cycles/day (00Z / 06Z / 12Z / 18Z) with a 10 day duration; 1-hour forecast increments across 24 hours; 3-hour forecast increments across 240 hours; the inclusion of full Panasonic TAMDAR (tropospheric airborne meteorological data reporting) data assimilation; enhanced tropical cyclone relocation algorithm for improved TC track forecasting; and improved gravity wave drag parameterization for greater stability and reproducibility.
---
A new class of weather sensor will be on the market by the middle of 2016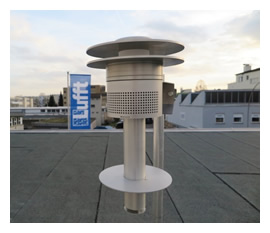 German-based Lufft has created a new weather sensor so precise that a normal calibration laboratory isn't able to measure its accuracy.
The innovative Lufft WS3000 is an environmental sensor that could serve as the reference for all other environmental sensors. The new, high-quality aluminum housing design, size, and especially performance show this new Lufft product's capabilities. The WS3000 weather sensor is not only WMO compliant but also attractive for the requirements of airports and meteorological services.
Before the official product roll-out of the WS3000 and WS3100 in the middle of 2016, they will be tested by several public European weather services for half a year. The WS3000 measures air temperature, relative humidity and air pressure. It is the first product version of a new WS1000 series, which will be followed by WS3100 this year and WS4000 in 2017.
They will be supplemented with the Kipp & Zonen CMP10 radiation sensor, a high-precision radar precipitation sensor.
---
Optimized Arctic observation network will improve weather forecast in the Northern Sea Route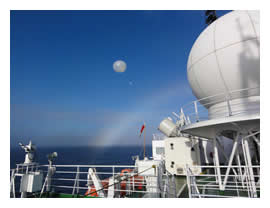 The National Institute of Polar Research (NIPR) and its international research team have conducted joint Arctic atmospheric observations which demonstrate that a more extensive observation network will improve weather forecasting capabilities in the Northern Sea Route.
The current reduction in Arctic sea ice causes unpredictable weather phenomena in the Arctic Ocean (strong winds, high waves and rapid sea-ice movement associated with cyclones) and also over the mid-latitudes (heat waves, severe winters, etc.). With such changing background conditions, more accurate weather forecasts are needed to safely navigate along the Northern Sea Route (NSR) and to understand the climatic linkage between the Arctic and the mid-latitudes. However, this is difficult because of the sparse number of atmospheric observations across the Arctic Ocean. As it is highly difficult to make additional observations in Arctic regions as a result of limited logistical support, a cost-benefit optimized Arctic observing network is required for improving polar predictions.
Dr Jun Inoue from the National Institute of Polar Research (NIPR) in Japan and his international research team conducted joint Arctic atmospheric observations, beginning in 2013, using radiosondes, instruments carried into the atmosphere by weather balloons in order to measure various atmospheric parameters. According to a new report, their high daily observing frequency improved the accuracy of atmospheric data used to estimate the state of the climate and for weather forecasts because much of the observed data was incorporated into the initial conditions of the weather simulations in real time. The research team concluded in their report Additional Arctic observations improve weather and sea-ice forecasts for the Northern Sea Route (Scientific Reports, 2015) that additional atmospheric observations would effectively predict not only severe weather phenomena over the Arctic Ocean but also sea ice distribution influenced by atmospheric forcing.
During the Year of Polar Prediction (YOPP), from mid-2017 to mid-2019, proposed by the World Weather Research Programme – Polar Prediction Project (WWRP – PPP), these types of observations and modelling activities will be accelerated within the international framework and could contribute to establishing a sustainable Arctic observing network.
---