Neue Produkte Auf Der Messe
Operational intelligence
DTN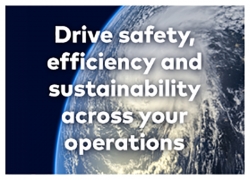 Challenging weather conditions can disrupt even the best supply chains. DTN's weather intelligence delivers analytics in real time to make critical decisions to drive safety, efficiency and sustainability across operations. Whether it is reducing risks at sporting events or keeping crews and cargo safe from bad weather, DTN solutions allow customers to monitor weather events as they occur and plan for developing hazards.

By working with DTN, utility companies can restore power quickly and efficiently by using advanced machine learning solutions. Offshore customers are better able to plan for workable weather windows as they receive continuous weather updates. Energy companies optimize grid capacity to avoid re-dispatching or grid breakdowns, and increase the reliability of renewable energy through the use of load forecasting solutions.

DTN provides insights and intelligence that help companies reduce their environmental impact. Its weather-optimized routing has been shown to reduce fuel usage and greenhouse gas emissions in the shipping and aviation industries, and its customized forecasts help transportation, agriculture and turf management organizations reduce problematic chemical applications.