Products on Show
CONFERENCE NEWS: WMO secretary-general Petteri Taalas lays out plans for organizational reform
CIMO TECO-2018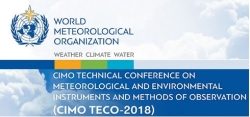 CIMO TECO-2018, hosted by Meteorological Technology World Expo, the world's biggest and most significant meteorological show, is taking place in Amsterdam, Netherlands, from October 8-11.

This year's CIMO TECO speakers were asked to address four key topics: the Characterization and standardization of environmental measurements – traceability assurance; Emerging measurement technologies: from development to operation; Ensuring sustainability of measurements; and Measurement and integration challenges in the next 20 years.

The WMO received an outstanding response to its call for papers, with more than 220 high-quality abstracts submitted from all WMO regions.

Day Two of CIMO TECO-2018 got underway with the final two presentations from the first topic - Characterization and standardization of environmental measurements – traceability assurance.

Craig Smith, Environment and Climate Change Canada, kicked off the day's presentations by discussing the Global Cryosphere Watch (GCW), a program being developed by the WMO to provide authoritative data, information and analysis on the state of the cryosphere.

To achieve its goals, the WMO assembled the GCW Observations Working Group, a best practices team tasked with compiling an authoritative guide on measurement best practices for cryospheric variables for use at GCW CryoNet stations and observations in general. The guide will have eight components when complete, with the final version scheduled for 2020.

"So far the drafts for chapters one and two on snow have been completed and are currently being reviewed by both CIMO members and GCW invited experts," explained Smith. "Chapter three on glaciers and chapter six on sea ice will be incorporated this fall."

Topic two, Emerging measurement technologies: from development to operation, began with a presentation by Prof. Volker Wulfmeyer, Institute of Physics and Meteorology, University of Hohenheim, who discussed the merits of an advanced active remote sensing system for water vapor and temperature profiling developed by the university. According to Wulfmeyer, several gaps exist in the observation of lower tropospheric water vapor and temperature profiles, referred to in the presentation as thermodynamic (TD) profiles.

The new remote sensing system, which is housed in a compact automated device, uses the Raman lidar technique to observe lower tropospheric thermodynamic profiles with high temporal and vertical resolutions. The presentation demonstrated how the Raman lidar fulfils the WMO requirements for lower-tropospheric water vapor and temperature measurements, marking a breakthrough in the methodology.

"Some of the key features include high accuracy and resolution of T and WV profiling – day and night – up to the middle troposphere. It's eye safe, operationally robust and is capable of continuous operation with minor laser maintenance for up to three years," added Wulfmeyer.

The big highlight from day two was a keynote speech by Prof. Petteri Taalas, WMO secretary-general, who set out the organization's plans for governance reform by restructuring 12 Technical Commissions and other bodies to form four key commissions: the Commission for Weather, Climate, Water and Related Environmental Services and Applications (APSCOM); the Commission for Observation, Infrastructure and Information Systems (INFCOM); the Research Board on Weather, Climate, Water and the Environment; and the Joint WMO-IOC Commission for Oceanography and Marine Meteorology (JCOMM).

"The governance reform is important to our members to ensure that we better respond to the growing demand for weather data and expertise around the world. We have been successful in our business so far but there's a chance to do more by running the business in a different way," said Taalas.

Taalas also called for greater cooperation with partners in the private and public sectors to improve the distribution of sometimes low-quality but useful data.

Day Three of CIMO TECO-2018 will take place within Hall 8 / Entrance F of the RAI Amsterdam Exhibition Center, on Wednesday, October 10, from 9:00am-5:30pm.

To find out more about the event, click here.